We welcome Sue Ann Jaffarian, author of the Odelia Grey Mystery Series (and the latest release and last release in the series, TOO BIG TO DIE) to Midnight Ink's blog today! Here she shares how Odelia got her start...and what it's like, after twelve (!) books, to have her end.
Recently I hit a major milestone in my writing career: I completed the twelfth
Odelia Grey mystery
novel,
Too Big To Die
. Twelve. An even dozen. Not a baker's dozen, but an even dozen. When I first set out to write the Odelia Grey series, I didn't imagine it would run so long, but along about the third or fourth book, I saw the story arc as it spanned out over Odelia's life and pitched Midnight Ink on the idea of a twelve-book series. They saw the potential and agreed.
In the first book,
Too Big To Miss
, Odelia was a single woman in her mid-forties. She'd built a nice life for herself, had an established career as a paralegal, and owned her own home. But she was bored.
"Rut was written all over my life. R-U-T in big bold letters, outlined in neon tube lighting." – Too Big To Miss
It was the death of one of her friends in that first book that quickly changed all that, launching Odelia on a path of murder and mayhem and even love that would be the basis of a long-running mystery series and the foundation of my career. In
Too Big To Die
, we find Odelia in her mid-fifties and married to the man of her dreams, but her career is teetering on the brink of chaos and there are
still
dead bodies.
Too Big To Die
is the last of the Odelia Grey series under contract to Midnight Ink, and it is dedicated to them. Over a decade ago, Barbara Moore, then the acquiring editor of Midnight Ink, saw great potential in my work and the publisher took on Odelia and me and launched my writing career. Later they published the first three books in my popular
Ghost of Granny Apples series
, and even the
Madison Rose Vampire Mysteries
. For all of this, I am eternally grateful, no matter where my path takes me in the future.
But is Odelia dead and gone, publishing-wise? Readers are concerned and have asked me about this many times. I don't see the series as ending, but I do intend to take a short hiatus from it while I develop new adventures and story arcs. I'm doing the same with Granny Apples. I've been cranking out two books a year for a very long time, and am eager to turn my attention to new ideas, characters, and stories.
But no matter where my writing career leads me, Odelia Grey will always be my main gal pal. We started this journey together, and she's been the best friend a writer could want, a boon-companion during the long hours, days, and years of writing.
***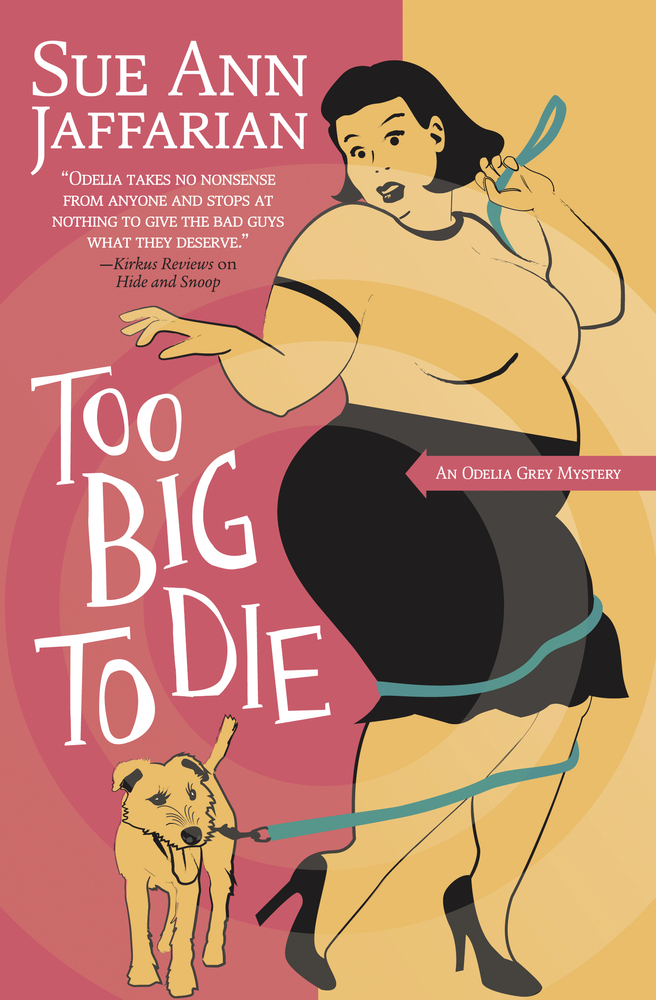 Viral videos and dangerous criminals turn Odelia and Greg's good deed into accusations of murder
It's the dog days of summer for Odelia and Greg after they rescue a dog from a closed car on a blistering hot day. The culprit is former reality star Marla Kingston, who's married to a client of Odelia's law firm. The dog was saved, but Odelia's job might not be when Kingston demands blood. Things get even stickier when a video of the rescue goes viral, and the man who helped them winds up dead. And who is the mysterious young woman who shows up about the same time? Is she connected or just an opportunist looking to cash in on their reluctant Internet fame?


Praise for the Odelia Grey Mysteries:
Rhythm & Clues
:
"Jaffarian's fun, frenzied eleventh mystery featuring plucky plus-size paralegal Odelia Grey...is a fluffly mélange of danger, humor, and surprises."—
Publishers Weekly
"[A] delightful series."—
Ellery Queen Mystery Magazine
"More corpses surely lie in wait for [Odelia]... But it's fun to see her ditzy niece share the spotlight this time around."—
Kirkus Reviews
---
Sue Ann Jaffarian
is a full-time paralegal who lives and works in Los Angeles. A member of Mystery Writers of America and Sisters In Crime, Sue Ann is the author of three mystery series—Odelia Grey, Ghost of Granny Apples, and Madison Rose—and also writes general fiction and short stories. She is widely sought after as a motivational and humorous speaker.
For the most up-to-date list of all Sue Ann's activities, visit the calendar page at
www.sueannjaffarian.com
.
"Sue Ann Jaffarian never fails to make me chuckle with her three mystery series starring paralegal Odelia Grey, ghost Granny Apples, and now
Murder in Vein
, starring friendly, and not-so-friendly, neighborhood vampires."
—Joanne Fluke,
New York Times
bestselling author of the Hannah Swensen Mysteries