We welcome Lissa Marie Redmond, author of the new Cold Day in Hell (the first book in the Cold Case Investigation Mystery Series), to Midnight Ink's blog today! Here she shares her New Year's Resolutions.
It's 2018, and that means a brand-new year of resolutions. Only this year, instead of vowing to lose fifteen pounds and sending out more thank you cards, I'm resolving to be a better writer. The first book of my new series with Midnight Ink,
A Cold Day in Hell
, is set for release on February 8th. With a new book coming out I am resolving to work on my fiction differently this year. Here's my 2018 list of writing resolutions:
I am going to hit my word count every day. About a year and a half ago, I set a 1,000 word minimum for myself. I figured if I set it any higher, the first time I didn't hit my goal I'd get discouraged and dump the minimum altogether. I'm happy to report I've been pretty good with this one, so I might up the ante a little. Maybe I'll set it for 1,500 words and see what happens. If I find myself falling short, I can always revert to 1,000.
I am not going to be so hard on myself. Is everything I write going to be perfect and wonderful and deserving of publication? Absolutely not. Things fall flat, words don't come together, and stories burn out. I think as writers we tend to be our own harshest critics. I have to allow myself to fail sometimes, recognize when it's time to shelf a project, and learn from the experience.
I am going to write outside my comfort zone. Even if I'm the only one who ever reads it, I'm going to experiment in other genres this year. Maybe I'll try romance or non-fiction or historical anything. I want to expand my writing boundaries. Who knows? It's almost like visiting a foreign country. I might find my next big project in a completely new area.
In the same vein as resolution #4, I am going to try new things. Being a writer can be a very solitary and sedentary life. This year I resolve to get out of my house more, taking my notebook with me, and writing wherever I happen to find myself. Maybe if I wander from my chair, out onto a beach or an amusement park or a ski slope, I might find brand new things to inspire my writing. If nothing else, the fresh air will clear the cobwebs from my brain.
I am going to support my fellow writers. Whether it's by going to a book signing, or leaving a review on Amazon or Goodreads, or joining a new critique group, I am going to encourage my fellow writers this year. There are so many ways to be negative in this digital age that I resolve to be a positive presence, especially to writers just starting out. I appreciate all the wonderful and kind things perfect strangers have done for me during my own journey to publication that I resolve to pay it forward in the new year.
This year's resolutions won't make me thinner or wealthier or more popular, but they will make my writing better and more creative. Hopefully, they'll help me spread some love and encouragement in the coming year as well. Happy 2018, everyone!
***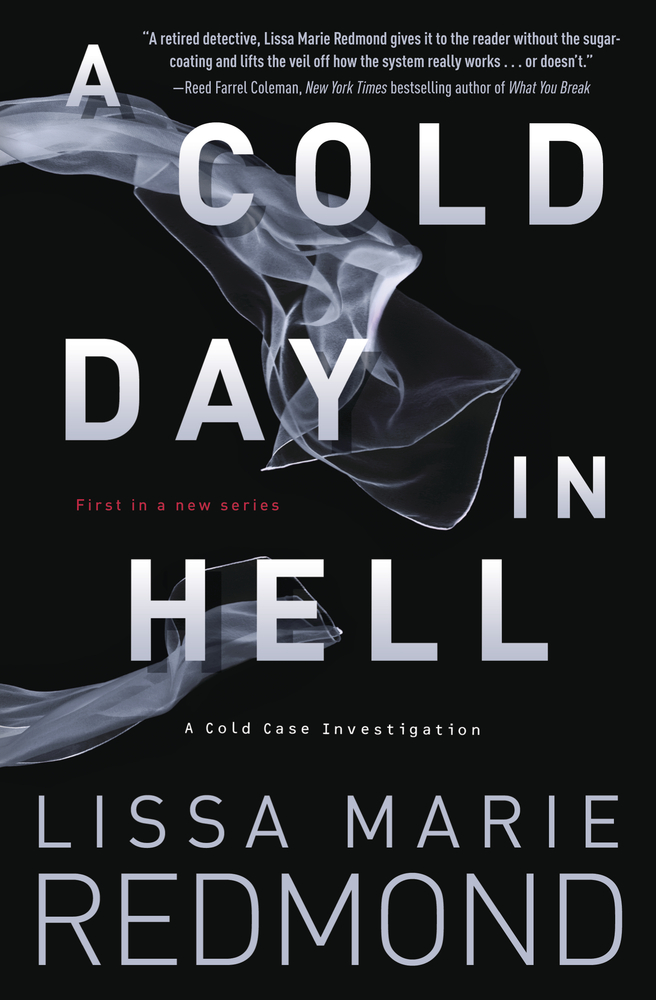 Lauren's job as a cold case homicide detective is her life. And life just got complicated.
Lauren Riley is an accomplished detective who has always been on the opposite side of the courtroom from slick defense attorney Frank Violanti. But now he's begging to hire her as a private investigator to help clear his client of murder. At first Lauren refuses, wanting nothing to do with the media circus surrounding the case—until she meets the eighteen-year-old suspect.
To keep an innocent teen from life in prison, Lauren must unravel the conflicting evidence and changing stories to get at the buried facts. But the more she digs, the more she discovers that nothing is what it first appears to be. As Lauren puts her career and life in danger, doubt lurks on every corner . . . and so does her stalker.


Praise for A Cold Day in Hell:
"A retired detective, Lissa Marie Redmond gives it to the reader without the sugarcoating and lifts the veil off how the system really works . . . or doesn't."
—Reed Farrel Coleman,
New York Times
bestselling author of
What You Break
"Recommend this one to anyone who loves courtroom dramas where lawyers tear into witnesses like pit bulls. And to anyone hot for a police procedural where tired cops make mistakes but slowly, relentlessly—and with morbid humor—get the job done. Redmond delivers both in one package. . . . The real attraction here is a keyhole view into a world that turns our expectations upside down—a world where a bullying, quasi-fascist cop can be the only one with a handle on reality. Keep your eyes on Redmond, a retired cop who knows how to write."
—
Booklist
---
Lisa Marie Redmond
is a recently retired cold case homicide detective of the Buffalo Police Department. She's also a member of Sisters in Crime.