We welcome Susan Oleksiw, author of the new Below the Tree Line, the first book in the new Pioneer Valley Mystery Series, to Midnight Ink's blog today! Here she shares the inspiration for Below the Tree Line.
A few years ago I was facing the end of one mystery series and trying to think up an interesting setting and protagonist for something new. An idea might come to me, but I'd put it aside because it wasn't compelling, and besides, I had other things to think about. In their retirement years my parents did the unexpected: they sold their home in a lovely town on the ocean and, in their seventies, bought a farm and went back to the land.
I watched this with some amusement, following my father along the trails he cut in the woods, waving to the farmer on his tractor, getting to know the neighbors at church suppers. My mother went back to canning vegetables from her small garden, something she hadn't done since the 1950s. They ate a lot of zucchini.
When my parents died I found myself the owner of a farm that consisted of large tracts of woods and a field rented to another farmer. I also found myself responsible for the periodic forestry management plans required by the state.
I'd helped with some of this legal work while my mother was still alive, but the full extent wasn't clear until I was solely responsible for all of it. I learned a lot about trees, ecology, forestry, and more. The work was interesting, the foresters helpful and informative, and a walk in the woods always a pleasure. I learned about this part of New England and read farm journals. And then it dawned on me. Why not use what I knew for a new series featuring a farmer whose farm is mostly wood products?
I invented a fictional farming community in the Pioneer Valley, to distinguish the area from the Berkshires, populated the town with a variety of friends and small-business owners based on long-gone relatives, and gave my protagonist a barn cat (everyone needs a cat to control the mice population) and a rescue dog (what's a walk in the woods without a dog?).
As I sketched out the first story, for
Below the Tree Line
, I was flooded with memories of all the evenings my brothers and parents sat around telling stories about the dairy farm where we'd been born, in Connecticut, my great-grandfather's farm (a man I knew), the farming community where my mother spent every summer of her childhood, and the occasional swamp Yankee we encountered. It turned out I knew more about this life than I realized.
My protagonist, Felicity O'Brien, took shape as the daughter and granddaughter of farmers, but also as the daughter of a line of women with a special gift for healing. This nugget of character came from an encounter with a small church whose members participated in healing services. Despite their apparent special gifts, they were ordinary folk anyone might encounter in the community--teachers, accountants, health care workers, loggers, shop owners. It was their matter-of-factness about their healing practices that caught my imagination.
The more I explored my fictional world in this part of New England, the more interesting it became. Instead of finding myself in an isolated community, I discovered the way these rural areas link to the larger world and feel every wave or wind brushing over the entire country. And all the while they are striving to maintain a way of life few even know about anymore.
***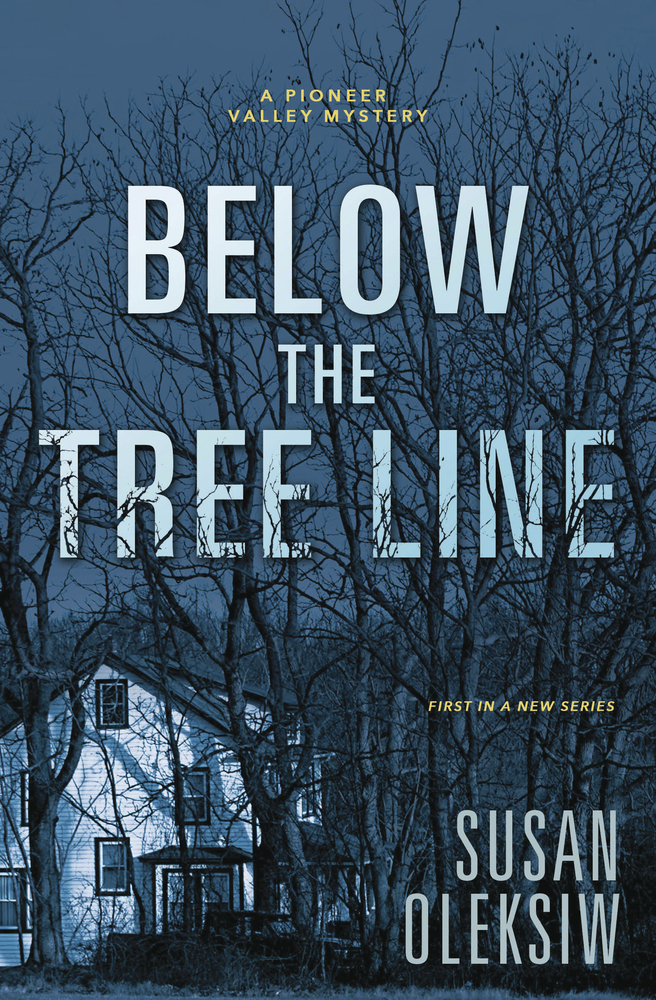 In the Massachusetts countryside, family secrets run deep...but an outside threat could uproot them all
Felicity O'Brien hopes the warning shot fired from her porch is enough to scare off the intruder who's been snooping around her family's Massachusetts farm. Days later, when two young women are found dead nearby, Felicity can't figure out how the deaths are related, and even her inherited healing touch isn't enough to ease the community's pain over the tragic loss.
Felicity does know that somebody wants something bad enough to kill for it, but all she has is the neglected property her parents passed down to her. Joining forces with her friend Jeremy Colson, Felicity tries to uncover the truth and save herself and her land from those who are capable of unthinkable harm.


Praise for Below the Tree Line:
"Oleksiw crafts a classic small-town mystery...where a closely knit cast of characters are forced to wrestle with the unwanted intrusion of the modern world that threatens long-standing traditions."
—Sheila Connolly,
New York Times
bestselling author of the County Cork Mystery series
"A woman with healing hands and a rescued dog trap a killer in Susan Oleksiw's engaging
Below the Tree Line
."
—Hallie Ephron,
New York Times
bestselling author of
You'll Never Know, Dear
---
Susan Oleksiw
(Massachusetts) is the author of the Mellingham mystery series and the Anita Ray mystery series. She is the co-founder of Level Best Books, which publishes an annual anthology of the best New England crime fiction. Her writing has appeared in
Alfred Hitchcock Mystery Magazine
and she served as co-editor for
The Oxford Companion to Crime and Mystery Writing
. Visit Susan online at
www.SusanOleksiw.com
.