We welcome G.M. Malliet, author of the St. Just Mystery Series and the new release WEYCOMBE to Midnight Ink's blog today! Here she shares how this year's deadly hurricane season has inspired her to help out—and how you can do the same!
Houston, where it all started, at least in terms of national awareness that this was bad—very bad indeed—is still bailing out. Harvey landed right about the time my new standalone
WEYCOMBE
was set to launch, and somehow, my struggles and worries to get this book written and published just paled in comparison. Really, did not matter. I've experienced catastrophic loss in my life, but nothing that came close to what people in Houston were suffering. Also, I have a special affinity for Houston: I lived there briefly as a child.
And there is a mystery bookstore there that has always been welcoming to me:
Murder by the Book
. They opened their doors during the aftermath of the storm to give people somewhere to escape to, somewhere to take their minds off their losses, if just for a minute. Books have a wonderful way of helping people cope.
I wanted to do something similar. I wanted to help, but I didn't have a lot to offer. Then I had an idea. To express my sympathies to all whose lives and properties were impacted by the destruction, I decided to do the only thing that might help. I could pledge money, which is generally more welcome than anything. To be honest, what I could pledge is, forgive the pun, a drop in the bucket. Houston and all the communities affected face a long road to recovery.
I have pledged to send 10% of my author royalties for
WEYCOMBE
, up to $5,000, to the Red Cross in Houston. So, if you purchase this book or ask your library to, a small fraction of the cost will go to help people buy food, clothing, and shelter.
What is the book about? A summary is on the graphic above that accompanies this blog, and reviews are on my
website
. But essentially, a lonely American in the UK begins to fill her days snooping about with an investigation when her neighbor is murdered. With a few (major) changes, this is the story of my life living in the UK. But I rush to assure you, there was no murder.
I hope you enjoy it. It goes
on sale October 8, 2017
. If you buy it or ask your library to acquire it, you are helping me with that drop in the bucket. Thank you.
***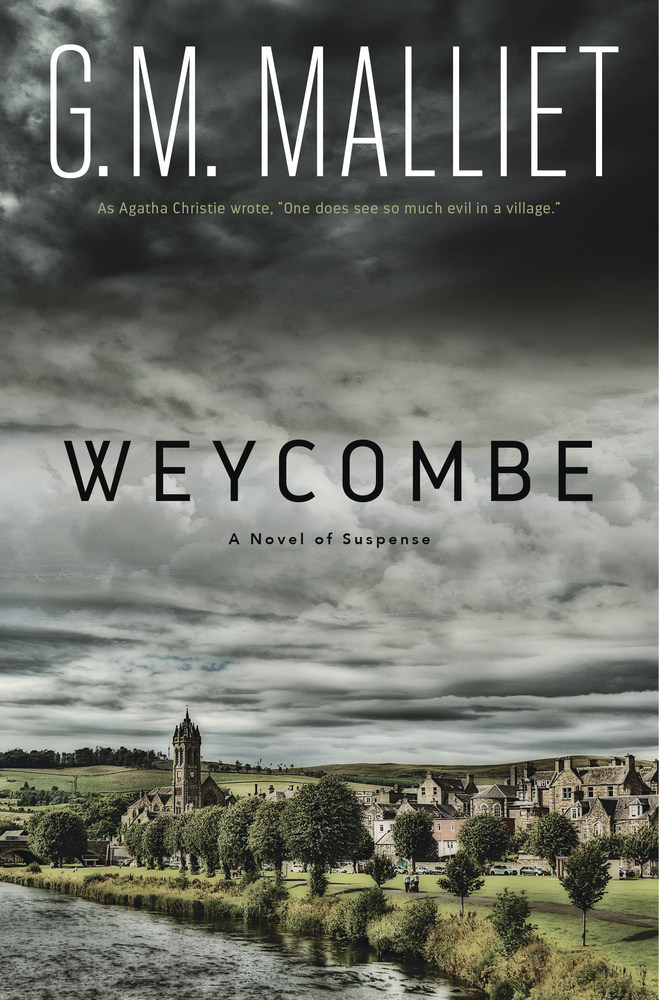 To those on the outside, Weycombe is perfect. For those on the inside, the cost of perfection is deadly.
Living in the gated, wealthy village of Weycombe with her titled English husband is a fantasy come true for American Jillian White. But the murder of a local estate agent mars the so-pretty surface of her life and home. Worried about a killer on the loose, Jill tries to piece together clues hidden in the many versions of truth she hears from her suspicious neighbors. As Jill plunges deep into the investigation, her own suspicions grow into a warped web of lies and treachery.
From award-winning author G.M. Malliet comes a gripping psychological tale of murder and deception in which few can be trusted and nothing is as perfect as it seems.
G. M. Malliet
worked as a journalist and copywriter for national and international news publications and public broadcasters. Winner of the Malice Domestic Grant (
Death of a Cozy Writer
), Malliet attended Oxford University and holds a graduate degree from the University of Cambridge.
Malliet's first novel
Death of a Cozy Writer
was chosen by
Kirkus Reviews
as a Best Book of 2008, nominated for a Left Coast Crime award (the "Hawaii Five-O" for best police procedural), short-listed for the Macavity Award for Best First Mystery, nominated for the Anthony Award for Best First Novel and was a finalist for the David G. Sasher, Sr. Award for Best Mystery Novel. You can visit her online at
http://gmmalliet.com/
.