We welcome Diane A.S. Stuckart, author of the new Fool's Moon, the first book in the Tarot Cats Mystery Series, to Midnight Ink's blog today! Here she talks about why cats, the tarot, and the state of Florida are so central to her new book.
Cats. Florida. Tarot.
Those three words are the soul of
Fool's Moon
, the first in my new Tarot Cats Mystery series. It's been one of my favorite books ever to write, mostly because each of those words has special meaning to me. And since this is a "get to know you" kind of blog post, let me explain so you can learn about me, as well as about my series.
Cats
. I grew up as a Crazy Cat Kid (can I trademark that phrase?). Numerous of my childhood photos show me carrying, petting, or otherwise engaging with a feline. Unfortunately, my parents weren't exactly animal lovers, which meant that when I grew up that I surrounded myself with critters.
My current clowder (the official term for tons o' cats) consists of my orange tabby brothers, Butch and Sundance, and sibling black cats Brandon Bobtail and Ophelia. And, yes, the latter pair are the inspiration for Brandon and Ophelia in
Fool's Moon
. But as plotting circumstances worked out, the personalities of my real life kitties and their fictional counterparts swapped themselves. The Brandon in
Fool's Moon
is smart and levelheaded. Real life Brandon is a loving but feisty little (well, big) butthead. Similarly, the real life Ophelia is sweet and mostly defers to her brother, while fictional Ophelia is the mouthy one.
Florida
. I've lived in South Florida for more than a dozen years now, moving from Texas, where I was born and lived most of my life. Being a Texas native has always been a crucial facet of my identity, in part because our ranks are dwindling as more people move to the Lone Star State. I have found, however, that the Sunshine State has a similar pride of birth, with even fewer native Floridians to be found. The folks here are equally independent (remember that the Keys once seceded from the nation), and even more of a cultural mix, from Native Americans to Cubans to Haitians to New Yorkers. Perhaps it's that mix that makes the state more than a little quirky (when was the last time someone in Connecticut tossed a live gator through a fast food drive-thru window?). And that quirkiness made me eager to set the Tarot Cats Mysteries here in my new home.
Tarot
. I've been fascinated by the Tarot ever since I was a teen in the 70s. As a storyteller, I'm drawn to its "hero's journey" imagery and the deep symbolism of the cards. However, like my human protagonist in
Fool's Moon
, Ruby Sparks, I don't see Tarot decks and Tarot readers as anything supernatural. As Ruby would tell you, the Tarot is simply a tool for self-discovery.
But what's this about cats reading Tarot in
Fool's Moon
? Yep, Ophelia learns to interpret the cards by watching Ruby and thinks she does a much better job of it than her human. And, full circle, her readings serve to set her and Brandon off on a literal journey of their little part of Florida.
***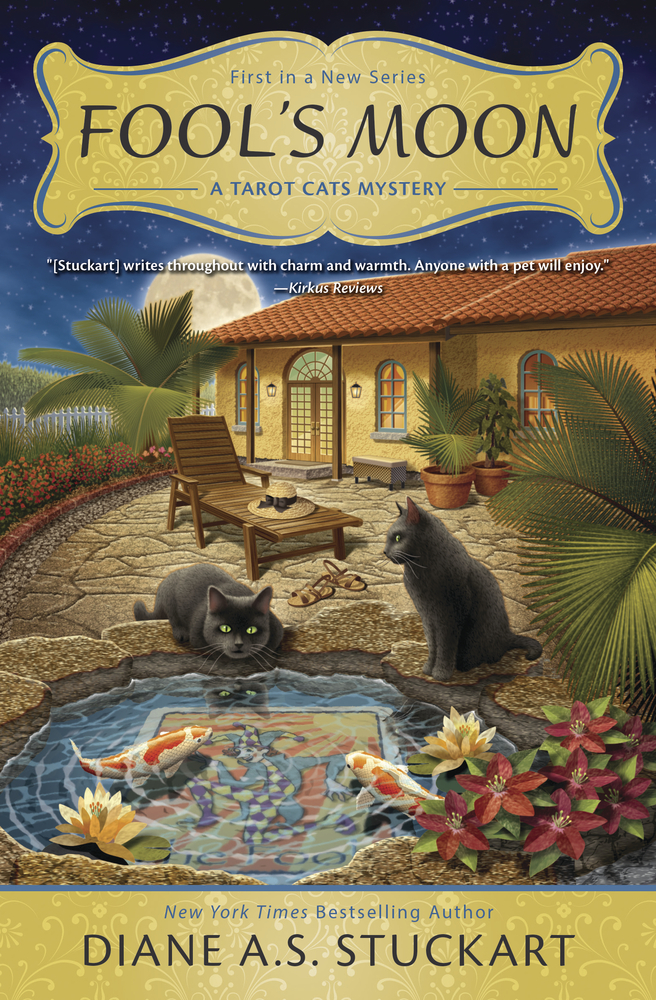 Two tarot-savvy cats and their tenderhearted human outwit a cruel criminal in this animal-centric whodunit.
Most days, Ruby Sparks feels like the sign that says "Tarot Card Reader Extraordinaire" should say "Tarot Card Reader Fairly Competent." But as challenging as it is to take care of her half-sister's New Age shop—and her growing menagerie of enchanted pets—Ruby never worries that she's bitten off more than she can chew...until a customer wants her to divine the truth about a murder.
When her own life is threatened with a double dose of danger, Ruby begins to wonder if she's being played for a fool. Luckily, she has Ophelia and Brandon—sibling black cats with a talent for tarot—and a feisty pit bull friend who all lend a paw in collaring the culprit before Ruby finds herself taking her final cat nap.


Praise:
"[Stuckart] writes throughout with charm and warmth. Anyone with a pet will enjoy."
—
Kirkus Reviews
---
Diane A.S. Stuckart
is the
New York Times
bestselling author of the Black Cat Bookshop Mystery series. She's also the author of the award-winning Leonardo da Vinci historical mysteries, as well as several historical romances and numerous short stories. Her Tarot connection is even more sprawling. She's been an on-and-off student of Tarot since she was a teenager, though she confesses to being more of a collector of decks than a reader. She will, however pull out the cards for a friend on occasion.
Diane has served as Chapter President of the Mystery Writers of America Florida chapter, is a member of the Cat Writers' Association, and also belongs to the Palm Beach County Beekeepers Association. She lives west of West Palm Beach with her husband, dogs, cats—including the real-life Brandon Bobtail and Ophelia—and a few beehives. Visit her online at
http://www.tarotcats.com
.