We welcome Kellye Garrett, author of the new Hollywood Ending, the second in the Detective by Day Mystery Series, to Midnight Ink's blog today! Here she talks about writing what you know...including being a seat filler at the Emmy Awards.
Everyone knows the adage, "Write what you know."
That's definitely true for me. My
Detective by Day series
focuses on a semi-famous black actress who uses her Hollywood insider knowledge to solve murders. Whereas, I was a semi-successful black TV writer who uses my Hollywood insider knowledge to write murder mysteries.
With each book in the series, I try to focus on a different element of Hollywood. For book two—
Hollywood Ending
, out August 8—I set it during awards season. If you're wondering what awards season is, this is how I describe it in the book:
"Awards season was all about getting dressed, getting drunk, and getting tiny gold statues that usually meant an extra zero in your paycheck and an extra line in your obituary. The three-month stretch kicked off with the Independent Spirit Award nominations in November and culminated with the grand dame of them all—the Oscars—in February. In between, everyone and their mama gave out awards like candy on Halloween."
Although I've never been to the Oscars, I have been to the Emmy Awards, which ironically is probably the only acting awards show that doesn't take place during Awards season. It airs in September to coincide with the new broadcast TV show premieres.
You're probably wondering why I was at the Emmys. It definitely wasn't because I was nominated.
I was a seat filler!
Have you ever noticed that there are never any empty seats whenever they show the crowd at an awards show? That's because of seat fillers. A seat filler is a person who literally will sit in Tom Cruise's seat while he takes a bathroom break.
I know other awards shows will put out casting calls for seat fillers. I got the gig because of another Hollywood staple: I knew someone.
In
Hollywood Ending
, Day heads to the Silver Sphere Awards, which I created just for the book. Here's her prep process:
"I had to hand it to Sienna. We both looked great. Her Glam Squad had given me the full second-season-of-a-reality-show-makeover complete with clip-on hair extensions and enough nose and cheek contouring to make a Kardashian weep with joy. Clothing-wise, Sienna had opted for a low-cut Jessica Rabbit inspired number and I'd gone for an off the shoulder purple classic silhouette that flaunted way less boob and way more booty. We both wore our hair down. The hair stylist opted for a stick straight look for Sienna and flowy beach waves for me. I was impressed."
My own process was nowhere near as glam. I definitely was not wearing anything designer. Nope. I found a cute (and cheap) turquoise dress at my local Ross. Instead of hiring a hairdresser to put in extensions, I just plopped on a wig. And I did my own make-up. And these were the days before contouring and highlighting and all that other fancy stuff. You just put on some powder and foundation and called it a day.
Still, even without the entire glam squad, I felt gorgeous.
I arrived at the Shrine Auditorium ready to do my duty!
Because you don't actually have a seat, they line you up in a loading area by the lobby. You literally move conveyor style to the front of the line and wait until it's your turn to temporarily take ownership of a seat in the actual auditorium.
I ended up acting as a seat filler for both the Creative Arts Emmy Awards—which recognizes the more behind-the-screen categories like set decorator—and the Primetime Emmy Awards we all know and watch.
At the Creative Arts Emmys, I hit the seat filler jackpot, meaning someone in the first row never bothered to show up. So I basically sat down and watched the entire show in the best seat in the house. At one point, Ben Affleck and Jennifer Gardner came and sat next to me. This was when they first started dating and I was totally eavesdropping on their conversation. (It was nothing juicy, unfortunately.)
I moved around a lot more at the Primetime Emmy show and even managed to get some screen-time when I happened to be sitting in front of a winner when they announced his category. Soon after I had to give up my seat because its true owner arrived.
Ruby Dee.
I was a huge fan of her work, especially as a woman of color trying to make it in Hollywood in the 50s. Truth be told, I would've given up my seat for her anyway.
***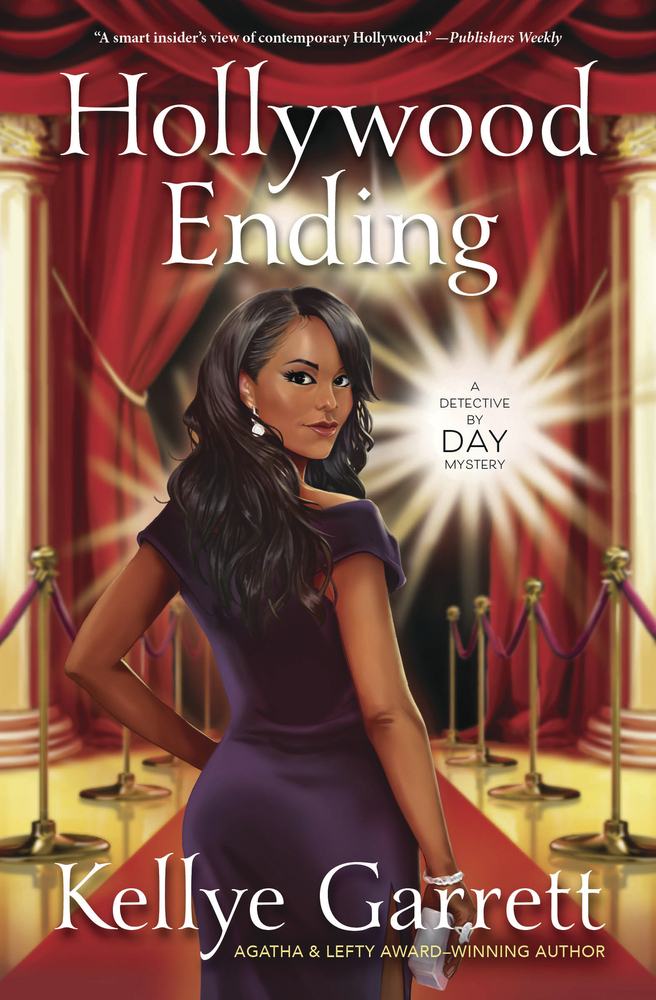 And the award goes to . . .

. . . Dayna Anderson, the semi-famous actress turned PI who steps up her sleuthing swagger in this follow-up to breakout hit Hollywood Homicide, winner of the Lefty Award and the Agatha Award for Best First Novel!
Tinseltown's awards season is in full swing, and everyone is obsessed with dressing up, scoring free swag, and getting invited to the biggest awards shows of the year. But when celebrity publicist Lyla Davis is killed, the festive mood comes to an abrupt halt.
Apprentice private eye Dayna Anderson thinks she's uncovered the killer. Unfortunately, what starts as an open-and-shut case turns out to be anything but. Diving deeper into the investigation, Dayna gets a backstage look at gossip blogging, Hollywood royalty, and one of entertainment's most respected awards shows—all while trying to avoid her own Hollywood ending.


Praise for Hollywood Ending
"Day's funny and determined, the sort of woman who really WOULD make a wisecrack when faced with danger. She's done her time in the tinsel factory and seen the light. She's the perfect guide to the lifestyles of the rich, famous, and homicidally inclined."
—Donna Andrews,
New York Times
bestselling author of the Meg Langslow series
"Kellye Garrett's
Hollywood Ending
glitters with stardust. A fun, fast-paced mystery, it's definitely an A-lister."
—Elaine Viets, author of the Dead-End Job mysteries
"Fasten your seatbelts. A star is born!"
—Nancy Martin, author of the Blackbird Sisters mysteries
"Kellye Garrett's
Hollywood Ending
is an entertaining whodunit that provides readers a peek behind Hollywood's star-studded curtain."
—Diane Kelly, award-winning author of the Paw Enforcement, Tara Holloway, and House-Flipper mystery series
Praise for Hollywood Homicide:
Winner of the 2018 Lefty Award for Best Debut
Winner of the 2018 Agatha Award for Best First Novel
Winner of the 2018 IPPY Gold Medal for Best First Book
"[A] winning first novel and series launch…Garrett writes with humor and insight about the Hollywood scene. Readers will look forward to Day's further adventures."
—
Publishers Weekly
(starred review)
"A smart, sassy debut, introducing an appealing protagonist with amusing friends."
—
Library Journal
(starred review) and Debut of the Month
"Veteran TV writer Garrett uses her
Cold Case
experience to inform her debut, which sets up more than one charming character and isn't afraid to go cynical on all things LA."
—
Kirkus Reviews
"Funny, lively characters populate this new Detective by Day series…this will be an entertaining entry into the amateur sleuth genre."
—
RT Book Reviews
---
Kellye Garrett
(East Orange, NJ) spent eight years working in Hollywood, including a stint writing for
Cold Case
. A former magazine editor, she holds a BS in magazine writing from Florida A&M and an MFA in screenwriting from USC's famed film school. She now works for a leading media company and brainstorms ways to commit murder for her novels.