We welcome May Cobb, author of the new Big Woods, to Midnight Ink's blog today! Here she shares the true, eerie story that inspired her new book.
Although my debut thriller,
Big Woods
, is strictly a work of fiction, the idea for this novel is based in part on a story my mother once told me while I was growing up in East Texas.
My mother, a nurse, worked the graveyard shift in the psychiatric unit of our small town's hospital. One night, a frantic young woman in bloodied and ripped clothing appeared in the doorway and begged for the staff to take her into hiding. The woman claimed she had been held captive by a group of powerful men, but had managed to escape. She whispered to my mother that the men—all town elders—had formed a secret cult and forced women into performing ritualistic sex acts.
My mom's co-workers thought the woman was insane, but my mother believed her. On a scrap of paper, she drew my mom a map to a nearby cemetery where she said the rituals were held. One weekend while my mom was off work, the hospital released the woman and my mom was never able to find her, or find out what happened to her.
Soon after, she followed the woman's map to the backwoods cemetery and walked up on the remains of a recently-smoldering fire ring.
My mother never forgot her, and it forever changed the way we saw our small southern town: an eerie place that has always been a center of religious fanaticism mixed with whispers of the occult.
***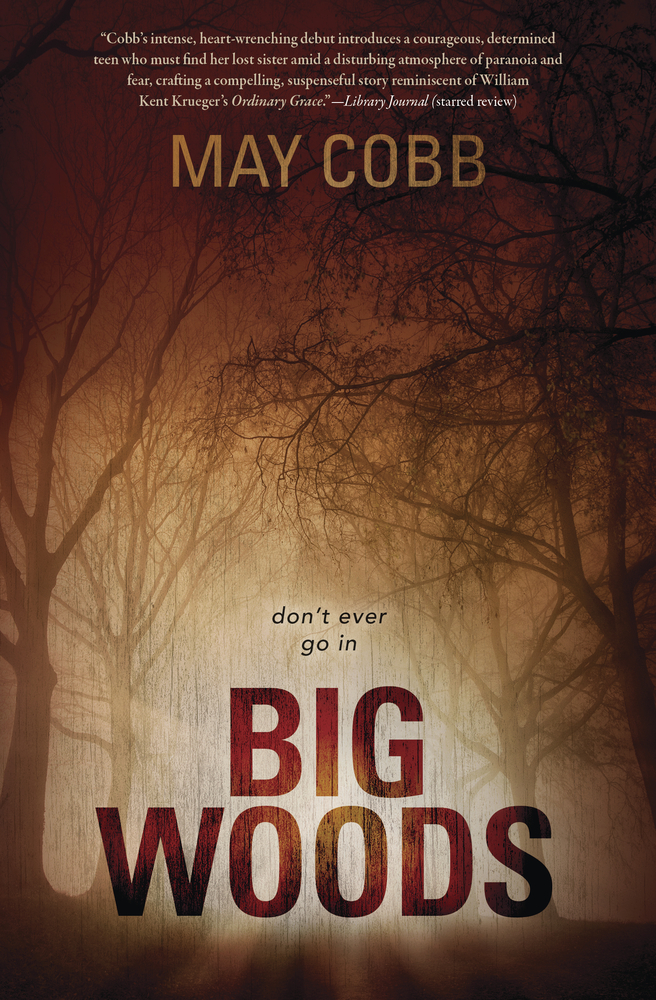 "Stephen King's Stand by Me collides with Gillian Flynn's Sharp Objects in this exceptional thriller. Gutsy, gripping—and pitch-perfect in its resurrection of an era long gone."
—A. J. Finn, #1 New York Times bestselling author of The Woman in the Window
It's 1989 in the sleepy town of Longview, Texas, when ten-year-old Lucy disappears. Her parents, the police, and the community all brace for the worst, assuming her body will soon be found in Big Woods. Just like the other unsolved kidnappings.
But then Lucy's fourteen-year-old sister, Leah, starts having dreams about Lucy—dreams that reveal startling clues as to what happened. Leah begins her own investigation, and soon she meets a reclusive widow who may hold the key to finding Lucy . . . if only she can find the courage to come forward.
Delving into the paranoia surrounding satanic cults in the 1980s,
Big Woods
is an emotionally wrought, propulsive thriller about the enormity of grief, the magical bond between sisters, and a small town's dark secrets.


Praise for Big Woods:
"
Big Woods
is a nuanced family story and also a heart-stopping thriller with surprising twists. Cobb taps into the fabulous 80s sensibility of
Stranger Things
and also into our deepest fears about safety, evil, trust, and the power of faith in what we don't understand. I couldn't put it down."
—Amanda Eyre Ward, author of
The Nearness of You
and
The Same Sky
"Compulsively readable."
—Rosamund Lupton,
New York Times
bestselling author of
Sister
"
Big Woods
is brilliant! Cobb has crafted a haunting thriller that dives deep into grief, family connections, and the dreadful power of fear. The novel succeeds as a rich exploration of emotion and a not-so-distant time while also shining as a riveting page-turner."
—Owen Egerton, author of
Hollow
and writer/director of horror-comedy
Bloodfest
"The novel's plot is well twisted, and author May Cobb draws out terrifying moments with clarity.
Big Woods
is perfectly timed to take advantage of the 1980s horror revival. Its historic details are excellent, down to the songs on Leah's car stereo. Cobb paints in Day-Glo and brings terrors of the night to life."
—
Foreword Magazine
---
May Cobb
is a novelist and freelance writer based in Austin, Texas.
Big Woods
was selected as the winner in the 2015 Writer's League of Texas Manuscript Contest, and the pitch to
Big Woods
was selected as the Winner for the 2016 NaNoWriMo Pitchapalooza. May earned her MA in Literature from San Francisco State University and has spent the past several years researching and writing a book about the late jazz great Rahsaan Roland Kirk (forthcoming). Her essays and interviews have appeared in
The Washington Post
,
The Rumpus
,
Edible Austin
, and
Austin Monthly
. Visit her online at
www.maycobb.com
.