We welcome Kathleen Ernst, author of the new Lace Maker's Secret, the ninth book in the Chloe Ellefson Mystery Series, to Midnight Ink's blog today! Here she talks about why the setting is such an important element of a book.
Authors sometimes debate which is most important: character or plot. Character comes first, in my opinion, but the discussion itself often ignores an element that should rank right up there in the top tier: setting.
As a reader, I gravitate toward books that provide me with a strong sense of place, books that transport me somewhere new with complete authenticity. I try to do the same with the
Chloe Ellefson mysteries
.
Chloe is a curator at a large outdoor ethnic museum called Old World Wisconsin, a real site where I once worked as a curator. When writing the
first book in the series
, writer friends urged me to create a fictional historic site. I couldn't imagine doing so. I knew, and wanted to share with readers, real and special historic places.
As the series has progressed, books have featured other museums and historic sites in the Midwest. The ninth book in the series,
The Lace Maker's Secret
, is set in northeastern Wisconsin, home to the largest rural community of Belgian-Americans in the nation. Chloe has been hired to develop a furnishings plan for a Belgian Farm being restored at Heritage Hill Historical Park in Green Bay.
The Lace Maker's Secret
includes a strand of historical fiction braided with Chloe's story. It introduces Seraphine, who immigrated to Wisconsin in the 1850s with her new husband. The Belgians came looking to farm, and were granted acreage in forested land instead. This is how I described their arrival:
"Jean-Paul," Seraphine hissed."This can't—" She stumbled, fell to one knee, clambered back to her feet. "This can't be right." The uncertainty in her husband's eyes did nothing to stay her growing unease.

…They were following their guide through a forest, deeper and deeper, away from the bay of Green Bay which had, for a time, glimmered through the trees. There was no trail, just several inches of slushy snow to hide roots and rocks. They shoved through thickets and skidded down ravines and clambered over windfalls. The trees were so tall and thick that midday was gloomy as twilight. Every strange bird call startled Seraphine. Every cracking branch made her jump. The cold pressed into her bones, numbed her toes. She carried a bulky sack over one shoulder. The skillet dangling from one mittened hand slipped from her grasp over and over. …How could the guide possibly know where he was going? They'd been walking for hours. There were no landmarks. The endless forest had swallowed them.
The Belgian immigrants faced hunger, epidemics, and a devastating forest fire. I couldn't hope to convey Seraphine's story without imagining the place where she landed.
While researching the mystery I spent a lot of time in Green Bay talking with site staff and volunteers, digging through the employee library, visiting local historical societies. But one of the most meaningful things I do when developing a new book is less academic: I settle in.
There is something powerful about walking the ground where 19th-century immigrants once walked. There is something powerful about gaining insight into their environment, and how it impacted their lives. There is something powerful about simply hunkering down with a notebook in hand to record the specific sensory details that will help bring a description to life.
I hope readers will enjoy being conveyed to another time and place as much as I do.
***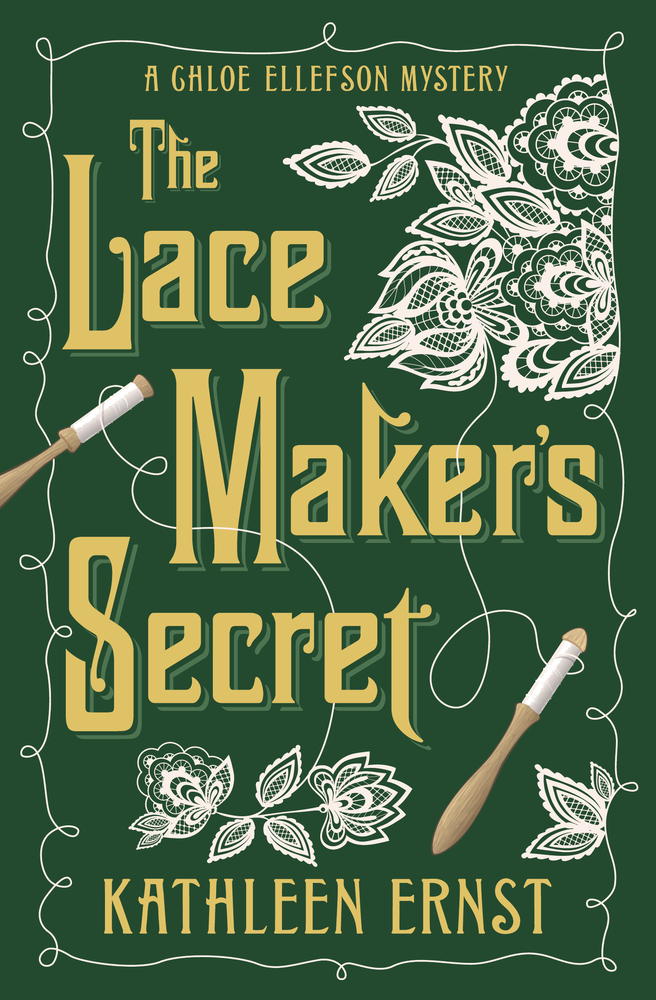 Greed, Uncertainty, and Death Get Tangled in the Mystery of a Rare Piece of Belgian Lace
Curator Chloe Ellefson needs distraction from the unsettling family secret she's just learned. It doesn't help that her boyfriend, Roelke McKenna, has been troubled for weeks and won't say why. Chloe hopes a consulting job at Green Bay's Heritage Hill Historical Park, where an old Belgian-American farmhouse is being restored, will be a relaxing escape. Instead she discovers a body in a century-old bake oven.
Chloe's research suggests that a rare and valuable piece of lace made its way to nearby Door County, Wisconsin, with the earliest Belgian settlers. More importantly, someone is desperate to find it. Inspired by a courageous Belgian woman who survived cholera, famine, and the Great Fire, Chloe must untangle clues to reveal secrets old and new...before the killer strikes again.


Praise:
"In this heartfelt tale of labor and love, Ernst produces one of her most winning combinations of historical evocation and clever mystery."
—
Kirkus Reviews
---
Kathleen Ernst
is an award-winning and bestselling author, educator, and social historian. She has published over thirty novels and two nonfiction books. Her books for young readers include the Caroline Abbott series for American Girl. Honors for her children's mysteries include Edgar and Agatha Award nominations. Kathleen worked as an Interpreter and Curator of Interpretation and Collections at Old World Wisconsin, and her time at the historic site served as inspiration for the Chloe Ellefson mysteries.
The Heirloom Murders
won the Anne Powers Fiction Book Award from the Council for Wisconsin Writers, and
The Light Keeper's Legacy
won the Lovey Award for Best Traditional Mystery from Love Is Murder. Ernst served as project director/scriptwriter for several instructional television series, one of which earned her an Emmy Award. For more information, visit her online at
KathleenErnst.com
.