We welcome Clare O'Donohue, author of the new Beyond the Pale (the first book in the World of Spies Mystery Series), to Midnight Ink's blog today! Here she shares some insight into traveling the world for her new series.
The World of Spies series started with self-interest. I love to travel, and a few years ago I noticed that I've seen most of the United States, some of Europe, and one lone country in Asia (Malaysia). Not bad, but tick-tock. Time was flying by and I wanted to see the world. But between work, family, writing books, etc., etc… it was something that stayed under the heading of "Someday."
Unless… well, unless I decided to write a series that took place around the world. Then, I'd have a solid reason to move travel from someday to now. I'd have to do research. I'd have to venture out, see for myself, experience things out of my comfort zone, and generally have a great deal of fun. Not for myself, though. Nope. For my characters.
So, I set about coming up with a mystery series that would require such amazing research. At first, I planned a story about a single woman who inherited a large fortune and set off to travel, encountering romance and murder at every stop. But it didn't quite fit. I mean, would she have a different romance in each book? A man who followed her from book one onward? And how would the country play a role? Would it be a character, too?
That's when I decided to make my main characters a married couple. A long-married couple. I'd done the beginning of a romance in my Someday Quilts Mysteries, and the end of a romance in Kate Conway Mysteries. I'd never done the middle bit, where you love each other but geez, he can be annoying. The bit that most of us spend our lives in. That felt right. That would mean they knew each other well enough to speak the language long-term couples speak, they would trust each other, and argue with each other. What fun!
I made them college professors (he teaches World Literature but also has a PhD in Art History, she teaches International Studies). They would know a lot about the places they visited, the history, art, politics. Even while they played tourist, they would be smart tourists, which would help make the country a character. I loved that.
But what are they doing going around the world? That stumped me a for a long time. The idea sat in my head for several years as I wrote other books and moved international travel up the list of must-do activities. I took two trips to Ireland, the site of my first book in the series,
Beyond the Pale
, and got ideas about where I would send my two heroes (now named Hollis, aka Holly, and Finn Larsson). And one day walking through a winding street in rainy Galway, I had another idea. What if Hollis and Finn were helping a secret government agency bring down an international ring of dangerous thieves? What if they were trying to be good guys in a world where good guys and bad guys were on both sides of the legal line? What if they found themselves, quite accidentally, to be spies?
And that's when this series was really born. I knew I had characters I could write authentically about, and mysteries that would be firmly set in each location, but with an over-arching story that would carry through the whole series. I knew it could be exciting, romantic, and hopefully, thrilling.
And, I knew it would mean I could do a lot more traveling for all the books yet to come.
***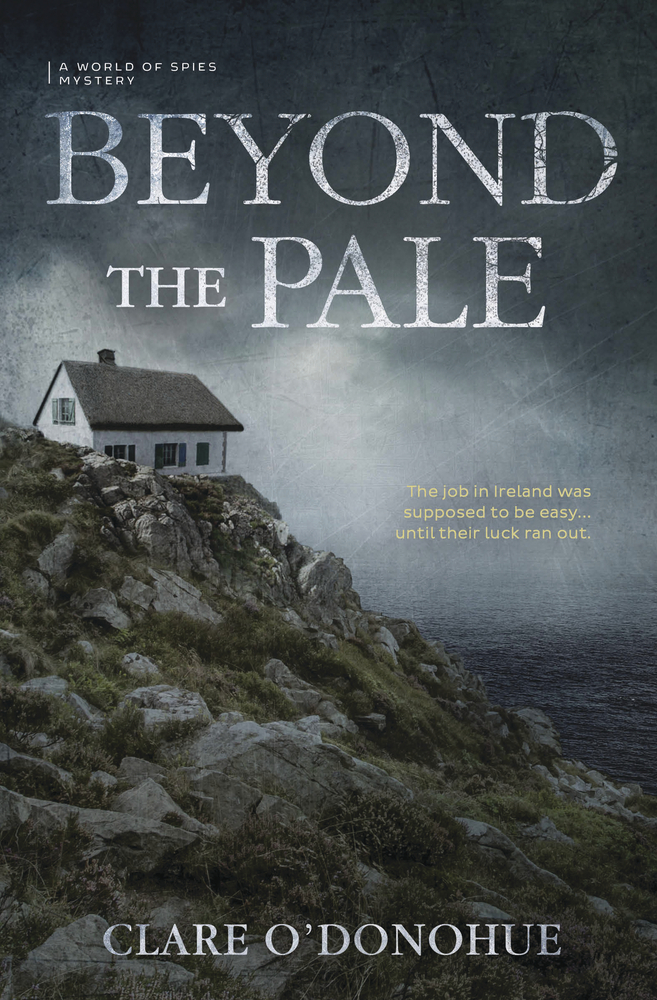 For college professors Hollis and Finn Larsson, a simple undercover errand becomes a deadly jaunt across Ireland in this edge-of-your-seat suspense novel from bestselling author Clare O'Donohue
It's an easy, twenty-minute job. At least, that's the pitch from Interpol to professors Hollis and Finn Larsson. Going undercover to procure a priceless rare book manuscript means an all-expenses paid trip abroad. A little danger thrown into the mix may even spice up their marriage.
Soon after landing in the Emerald Isle, they realize the job is anything but easy. Their contact is a no-show and they're left with fifty thousand euros, a death threat, and some serious questions. Ducking and dodging their way across Ireland, Hollis and Finn must hunt down the priceless manuscript and a missing agent while trying to stay one step ahead of a dangerous and unknown enemy.


Praise for Beyond the Pale:
"Plenty of thrills and hints at an exciting future for the reluctantly daring duo."
—
Kirkus Reviews
"O'Donohue (the Someday Quilts series) supplies plenty of fun spy business, but the believability and chemistry of Hollis and Finn as a couple, as shown in their witty dialogue, is the main appeal."
—
Publishers Weekly
"O'Donohue knows her Irish literature and countryside, and weaves them beautifully into an action-filled story."
—Sara Paretsky, author of the V.I. Warshawski series
"Clare O'Donohue may have invented a new category of crime fiction—the amateur spy novel—and I'm a big fan. At turns funny, real, and nail-biting,
Beyond the Pale
is a terrific read."
— Lori Rader-Day, Anthony and Mary Higgins Clark Award-Winning author of
The Black Hour
,
Little Pretty Things
, and
The Day I Died
"Excitement definitely comes into Hollis's life. But instead of something that could inject life into her marriage, she may just be facing someone who will end her and her husband's lives once and for all.This is Book 1 in the new World of Spies mystery series, and the author has created the perfect roller-coaster ride."
—
Suspense Magazine
---
Clare O'Donohue
is the author of the Kate Conway Mysteries and the Someday Quilts Mysteries. She was a producer for the HGTV show
Simply Quilts
, and has worked on shows for the History Channel, truTV, Food Network, A&E, Discovery, and TLC. Visit her online at
www.ClareODonohue.com
.