We welcome James Scarantino, author of the new Price of Vengeance (the third book in the Denise Aragon Mystery Series), to Midnight Ink's blog today! Here he shares some insight into his latest book.
Creating her own messes is nothing new for Detective Denise Aragon. Her mouth has always been a problem. This time it sets off a chain of events that make her the target of an FBI investigation into kidnapping and terrorism.
All the while she's on her back in a hospital bed, terrified she may never walk again.
The circumstances in
The Price of Vengeance
open a new side for the stiff-necked Aragon. Her vulnerability, her sense of responsibility for the consequences of her loose words, and her need to depend completely on others snap the steel bands she has wrapped around her heart. As readers know, she has added muscle to her body like armor. Now none of it can help her. Only friends, a returned lover, her detective partner and a Sergeant with his own agenda can help her out of the pit she has dug for herself.
In
previous books
I have explored the limits of acceptance of the losers in the criminal justice system. I've always wondered how a family who has lost someone to murder can stand again to be victimized by the system that is supposed to give them justice. Denise Aragon, with her buzz cut and muscles, grew out of this tension. Walter Fager in books 1 (
The Drum Within
) and 2 (
Compromised
), a criminal defense lawyer who delivered injustice for the right price, faced it when his wife was murdered and her killer went free (thanks to Aragon's blunder).
In
The Price of Vengeance
Pete Cervantes can no longer take it. He blames the loss of his family on the grand schemes of powerful men. A speech by Senator Sam Baca Valles sets him off, and he sets his sights on this self-centered politician. Careless words by Aragon strike a match to the fuse.
I like the trap Cervantes sets for the Senator. Without spoiling the story, let me just say that I wonder about those people in Congress with their expensive suits and haircuts, flying first class while soldiers returning from war pass them on their way back to cramped economy seats. What are they made of? They send men and women off to die in strange countries for stupid reasons. They pass laws that result in lives lost here in the USA. How would they act when they had to live in the same world as the people whose destinies they shape and control? Would any of them measure up?
Would they risk their careers and power, their own lives, for others?
The sweet thing about Cervantes's trap is Valles has no way out. Either he's through or he's dead.
This story unfolds in the pricey neighborhoods of tony Santa Fe, whereas previous cases had taken Aragon to the gritty side of town where she grew up. Those books painted the division between the brown and white sections of Santa Fe pretty starkly. This book has the hostage situation sited in one of Santa Fe's loftiest neighborhoods, but where, as Detective Rich Lewis observes in the one profound thought Aragon allows him per day, the dust on cars is the same dust on the hoods of pickups in the city's trailer parks.
The interior mystery around which the hostage situation is wrapped centers on the Sandia Mountain Wilderness high above Albuquerque and just about two miles above sea level. I know those mountains well; I used to hike and run them end to end on my birthday, with a cold six pack and steak dinner waiting at the end. The distance comes to the equivalent of running a marathon, but at over 10,000 feet, over rocks and boulders and in places in temperature approaching one hundred degrees. A couple times it was so hot I thought I would die near the end.
Hey! There's an idea for a mystery: a crazy wilderness runner dies on the mountain. Was it accidental, caused by over-exertion, dehydration, heat stroke, or was it…murder?
In conducting the research that provides the answers for Aragon, I got to learn much about what EMTs do and shouldn't do, toxicology, and what happens to the human body when pushed beyond its limits.
Pushing one's body beyond its natural limits fit right in with Denise Aragon's character. She would understand and be fascinated. And, as luck had it, just like me, she had run the same mountain trails where the body was found.
I'm glad this story presented some opportunities for humor. Aragon in
The Drum Within
let her sense of humor tame her anger against her incompetent and corrupt supervisor. In this book she has some irreverent fun with the FBI agent who wants to nail her for Pete Cervantes' actions.
Even with Aragon paralyzed for a chunk of the story, she's still an action figure. As with all the bumps in the road of her life, each jolt just makes her stronger.
***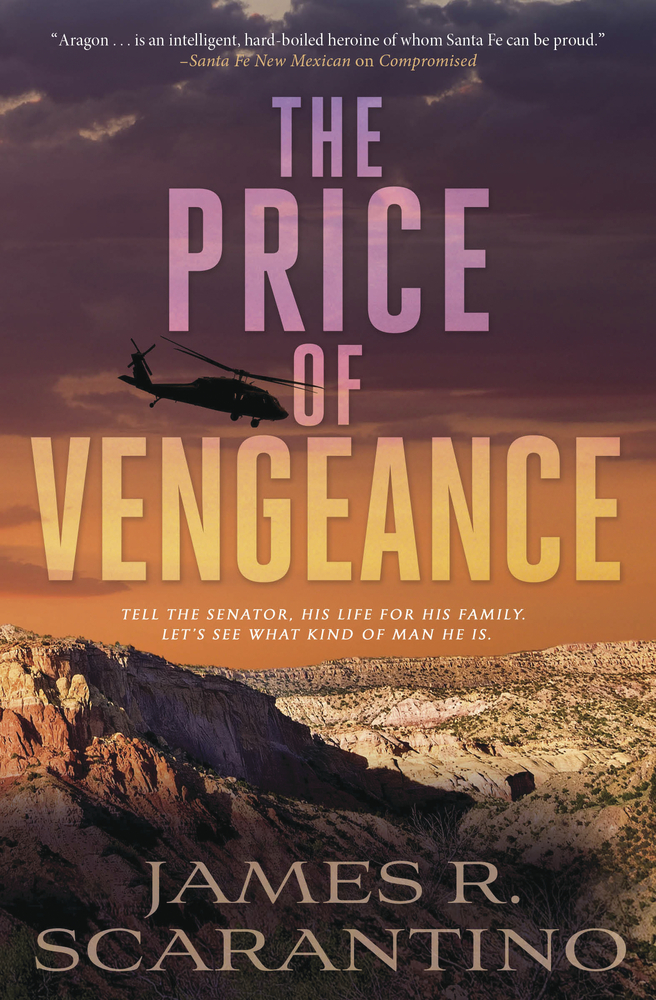 There Is Always a Price to Pay
Detective Denise Aragon finds herself in the middle of a desperate standoff she may have caused with a single phrase: take him out. On one side is Peter Cervantes, her grieving friend and now a hostage-taker who blames the deaths of his sons on the grand schemes of powerful politicians. On the other side is a United States senator with a dark past whose family is being held at gunpoint by Cervantes.
The FBI targets Aragon as an accomplice to kidnapping and terrorism, and her only way out is to drag the senator's crimes into the light. She can only pray that the price of vengeance won't be paid in blood.


Praise for Compromised:
"Mayhem and more."—
Kirkus Reviews
"[Scarantino] is skilled with complex plotting and has a talent for expository dialogue...Though she is fictional, Aragon, who sports a crewcut and a baby face, is an intelligent, hard-boiled heroine of whom Santa Fe can be proud."
—
Santa Fe New Mexican
Praise for The Drum Within:
"
The Drum Within
is a superb novel, and this is a hearty welcome to an insanely talented newcomer, Jim Scarantino."
—Lisa Scottoline,
New York Times
bestselling author
"
The Drum Within
is a gritty police procedural that will make you rethink everything you know about justice. A tour de force of good guys and bad guys. A masterpiece. I loved it."
—Robert Dugoni, #1 Amazon and
New York Times
bestselling author
"
The Drum Within
keeps many ducks in a row through a maze of gritty encounters, bitter confrontations, and some very clever red herrings."
—
Santa Fe New Mexican
"A thrilling police story."—
Suspense Magazine
---
James Scarantino
is a prosecutor, defense attorney, investigative reporter, and award-winning author. His novel
Cooney County
was named best mystery/crime novel in the Southwest Writers Workshop International Writing Competition.