We welcome Darci Hannah, author of the new Cherry Pies & Deadly Lies (the first book in the Very Cherry Mystery Series), to Midnight Ink's blog today! Here she shares some insight into her new protagonist, millennial slang, and cherry pies.
Screaming goats, cherry pies, a spectacular lakeside setting, and a confounding murder… what's not to love about that?
For an author there's nothing quite as thrilling as the launch of a new novel, and I'm doubly thrilled because this month my very first cozy mystery,
Cherry Pies & Deadly Lies
, will be released from Midnight Ink. Not only is this my first mystery, but it's also the first time I've written a novel set in the present. I've always loved creating entertaining characters, but I'm particularly fond of Whitney Bloom. She's a clever, tech-savvy twenty-eight-year old millennial with a lively personality and a tendency towards the overzealous. Of course, she's got some issues as well, like her predilection for sketchy reality TV, trying to keep a roof over her head, and trying not to think about her hunky ex-boyfriend, Tate Vander Hagen, a man who runs the marina in Cherry Cove and sails a boat named
The Lusty Dutchman
.
Why a millennial protagonist, you ask? The short answer is that I'm surrounded by millennials. I have three amazing sons in their early twenties, and two beautiful nieces of the same age who visit often. I love the millennial spirit, their energy, their fearlessness, their belief that they can do anything and their breezy acceptance of mind-boggling technology. I'm also enchanted by phrases like, "Hey, bro, how's that workin' out for you?" Or, the ever popular, "Dude, like, I don't even know how to answer that?" Although proper English is always encouraged in our house, I have found myself on the receiving end of a "Dude" more than once. Every time it happens my husband just shakes his head and says, "You do realize that you've just 'duded' your mother, right?"
Whitney, to my knowledge, has never been "duded," but she has had her share of embarrassments, the biggest of which was producing a questionable commercial while working at one of Chicago's largest advertising agencies. When we first meet Whitney she's desperately trying to get her old job back, but, um, that's not about to happen. Let's just say that her overzealous nature had gotten the better of her on that one. But she's hopeful, and resourceful, and doing whatever it takes to avoid returning home to her family's cherry orchard in Cherry Cove, Wisconsin. Fate, however, has other plans for Whitney. And when a dead body turns up in the cherry orchard during the ever-popular Cherry Blossom Festival, Whitney has no choice but to return home and face all her demons, including a former high school nemesis, her hunky ex-boyfriend, a dead body, Sasquatch, and a crazy murderer.
CAUTION: Reading this novel may cause unexplained cravings for cherry pie!
I've added the above warning as a service to those of you who may have a predisposed weakness for cherry pie, like I do. Even if cherry pie isn't quite your thing, reading about Whitney and her delectable cherry treats might change that. Don't worry if you don't happen to have a cherry pie on hand. You can always make your own using one of the delicious recipes in the back of this book. In fact, I highly recommend that you do. Invite some friends. And don't forget the scoop of vanilla ice cream!
***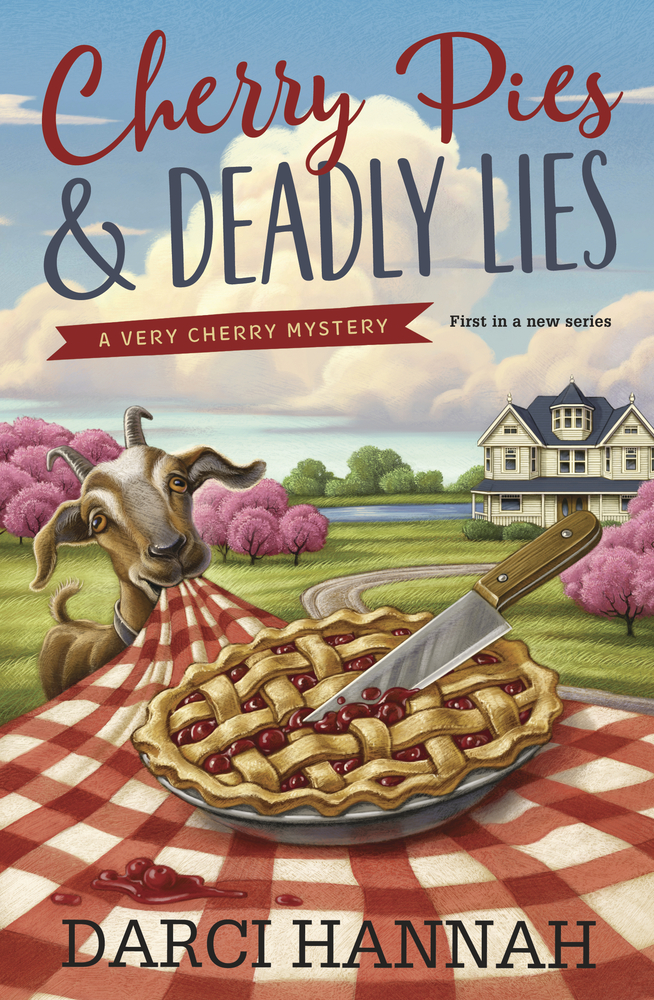 Crime with a Slice of Cherry Pie
Cherry enthusiast Whitney Bloom is furiously baking her way into the heart of Chicago with her fabulous cherry pies when she receives a desperate call from her mother. The annual Cherry Blossom Festival has just kicked off at the Cherry Orchard Inn in Door County, Wisconsin, and the manager of the Bloom family orchard has been found dead beneath the cherry blossoms. Worse yet, all evidence points to Whitney's father as the killer. After she races home to help, things really land in the pits for Whitney when she discovers that Jack MacLaren, her old high school nemesis, is Cherry Cove's only police officer. Putting her cherry-tastic treats on hold, Whitney matches wits against Jack. But will she have what it takes to clear her father's name and sift out the real Cherry Cove killer?


Praise for Cherry Pies & Deadly Lies:
"The first in an amusing new series features a fearless, reckless sleuth who unravels a complicated mystery while juggling her sex life and her future plans."
—
Kirkus Reviews
---
Darci Hannah
(Howell, MI) is the author of two previous works of historical fiction,
The Exile of Sara Stevenson
and
The Angel of Blythe Hall
(Ballantine). When she isn't whipping up tasty treats in her kitchen, she's hard at work writing.
Cherry Pies & Deadly Lies
is her first mystery.