We welcome Maddy Hunter, author of the Passport to Peril Mystery Series (and the latest release in the series, Say No Moor) to Midnight Ink's blog today! Here she shares what it's like when your trip is cancelled...and your book depends on it.
When you write a cozy mystery series called Passport to Peril, where each book is set in a different location abroad and is part travelogue, it's a good idea to visit the country where your potential murder plot is going to take place. I like to imagine myself as a sponge, soaking up the culture, the food, the historic sites, the language, the social quirks. I've had the good fortune to tour every country my fictional tour guests have visited, but for my January release,
Say No Moor
, I was confronted with a challenging dilemma.
We had an illness in the family that was going to prevent my visiting the book's locale, Cornwall, England. I'd already started writing the book so I was locked into that setting, but I feared that without a recent visit, I'd be giving the travelogue theme of the story short shrift. What to do?
I'd visited Cornwall eighteen years earlier, so I knew where I'd like to set some pivotal scenes.
The Bedruthan Steps in northern Cornwall was a must—a beach with giant chimney stacks of stone that tower over a narrow strand that disappears at high tide. It was only accessible by descending a truly frightening staircase that clung to the side of a cliff. But the atmospherics on the beach were so eerie that I was reminded of the place James Mason and company reached in the original
Journey to the Center of the Earth
movie, where they descended into a volcano and arrived at an inland sea whose beach was stalked by prehistoric beasts. I half expected to see winged creatures with spiny talons fly out of the caves that tunneled into the face of the cliff…or at least a flying monkey or two, but I failed to encounter any beasts. However, I figured this would be a perfect place for my intrepid Iowa senior citizens to try their hand at metal detecting. But had the beach changed in eighteen years?
St. Michael's Mount was another must. I remembered arriving in Marazion at high tide and having to board a launch to the Mount, then walking back to shore on the causeway that had appeared at low tide. I remembered climbing impossibly steep stairs to reach the castle, but all the other details of my visit were fuzzy. How could I not write about this iconic landmark in a book set in Cornwall, though?
Plan A. Luckily, I'd taken pictures on my initial trip. The downside was that all my photos were still in their photo development envelopes, unlabeled, tucked away in closets and beneath beds, in plastic storage containers. I'd never quite gotten around to organizing decades of photos, and what made it worse was that my husband loved shooting pictures of our trips, so we literally had hundreds, maybe thousands, of photos of nondescript stuff that he'd viewed once, then stashed away in our photo swamp.
Talk about a thankless task! But, I weeded through every bin and opened every envelope and eventually found my England photos. Yeah!
They were terrible. No wonder I'd hidden them away! They were dark and grainy, and even though I'd shot a few good pictures of the Bedruthan Steps and St. Michael's Mount, I didn't have enough source material on which to base a travelogue.
Plan B. Had the Google Earth car passed through Cornwall anytime recently?
Yes! That little car had traveled everywhere—major highways, country lanes, and everywhere in between. So I undertook a virtual tour of Cornwall, revisiting all my favorite places and finding a few new ones. The camera even allowed me to walk across the St. Michael's Mount causeway at low tide and explore the island at my leisure, without having to climb the wonky stairs again. It was better than being there in person! I visited Port Isaac, where
Doc Martin
is filmed, and Clovelly, which is another iconic village, and drove right into the parking lot that leads to the entrance of the Bedruthan Steps. But that's where my tour ended. The Google Earth people had opted not to descend the stairs. Nuts. Now what?
Plan C. YouTube! I found a few short clips of a rescue on the Bedruthan Steps and a drone flyover of the beach, but they weren't very helpful. Then I struck the mother lode. One camcorder-toting tourist had recorded his entire visit, from the entrance at the top of the stairs to the beach. He even explored a cave that tunneled through the headland and exited onto another rock-strewn beach. Missed that the first time. The cliffs had crumbled dramatically since my original visit, so metal fencing now clung to the cliff face to protect tourists from avalanching rock. And this new information would allow me to write about the site as it currently appeared. I was thrilled.
Having rebooted my visual memories of Cornwall, I forged ahead with the book, grateful that modern technology had allowed me to remain where I was needed rather than cross an ocean to do research. I finished the manuscript on time and sent it off to my editor, unsure if I'd successfully pulled off the geographical authenticity element of the book, but hoping I had.
My editor's reaction?
And I quote, "I think I really, really need to go to Cornwall."
My reaction?
Whew.
***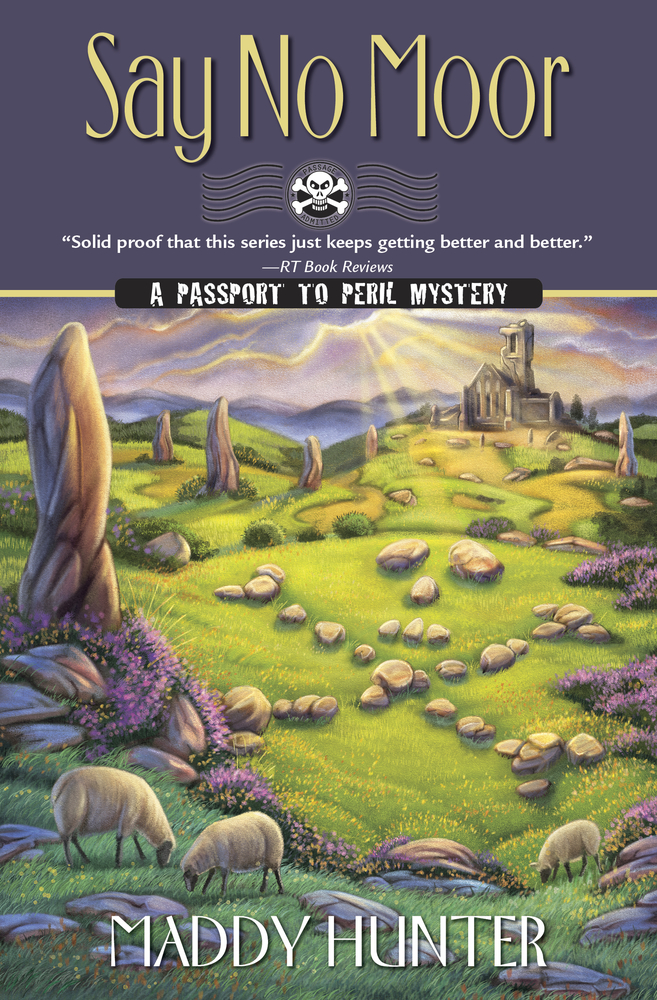 Tour escort Emily Andrew-Miceli's plan to boost her business with social media threatens to backfire in merry old England
Hoping to reach an expanded clientele of senior travelers, Emily Andrew-Miceli invites a handful of bloggers to join her group's tour of England's Cornwall region. But when the quarrelsome host of a historic inn dies under suspicious circumstances, Emily worries that the bloggers' online reviews will torpedo her travel agency.
To make matters worse, Emily is roped into running the inn, and not even a team effort from her friends can prevent impending disaster. As one guest goes missing and another turns up dead, Emily discovers that well-kept secrets can provide more than enough motive for murder.


Praise for the Passport to Peril Mystery Series:
"A bit of humor, a bit of travel information and a bit of mystery add up to some pleasant light reading."—
Kirkus Reviews
"The cast of characters is highly entertaining and the murder mystery mixed with good humor!"—
Suspense Magazine
"Maddy Hunter's Passport to Peril series is a first-class ticket to entertainment."—Carrie Bebris, award-winning author of the Mr. & Mrs. Darcy Mystery series
---
Maddy Hunter
has endured disastrous vacations on three continents in the past five years. The first six titles in the Passport to Peril Mystery series are available from Pocket Books; books seven through eleven are available through
Midnight Ink Books
. The first in the series,
Alpine for You
, was an Agatha Award finalist and a Daphne du Maurier Award finalist. Also,
Hula Done It?
,
Pasta Imperfect
, and
Top O' the Mournin'
were named to the Independent Mystery Bookseller's Association bestseller list. The author resides in Madison, Wisconsin. For more information, go to
MaddyHunter.com
.