We welcome Tracy Weber, author of the Downward Dog Mystery Series (and the latest release in the series, Pre-Meditated Murder) to Midnight Ink's blog today! Here she shares a photo tour of Cannon Beach, Oregon, the setting of Pre-Meditated Murder...and apparently a good place to hide bodies.
In my newest Downward Dog Mystery,
Pre-Meditated Murder
, Kate and crew take a trip to the town of Cannon Beach, Oregon for … Well, I don't want to spoil the surprise! I do, however, want to share some photos of this sweet little town on the Oregon Coast and the locations that inspired the scenes in the story. Enjoy!
Cannon Beach is best known for glorious beaches and an amazing rock formation called Haystack Rock. No trip to Cannon Beach can truly begin before my German shepherd pup, Ana, and I put our paw prints in the sand.
Haystack rock is a basalt monolith that provides home to colorful sea gardens perfect for exploring at low tide.
Or, if you're an athletic German shepherd like Bella in the series, you can spend your vacation time chasing tennis balls. Ana was happy to be Bella's body double for this photo.
The city itself is filled with quaint shops and delicious restaurants.
I re-imagined this courtyard for some of the book's pivotal scenes.
There's also a pet store. (What dog-related mystery would be complete without one?)
A stairway like this plays a role in the mystery…
And a key event takes place in Whale Park.
Wouldn't this be a great place to hide a body?
No trip to Cannon Beach would be complete without a photo at my favorite statue. Hopefully Ana and I will be together for annual photos for many years to come.
There's much more of Cannon Beach in the book, as well as humor, social dialogue, and a bit of a love story. I hope that you grow to love this quaint coastal town through the pages! Enjoy!
***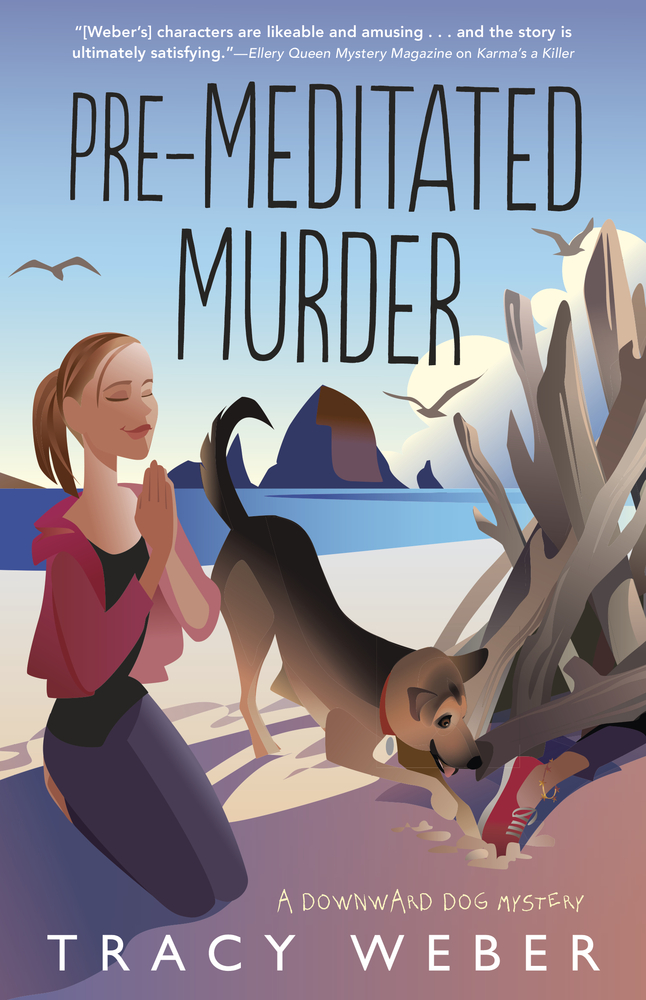 If Kate Doesn't Act Fast, the Only "I Do" in Michael's Future Will Be at His Trial
Yoga instructor Kate Davidson is ready to marry her boyfriend Michael, so she's disappointed when a special dinner doesn't end with a proposal. But disappointment turns to dismay and outrage as she learns the real problem: Michael is already married and his estranged wife is blackmailing him.
When his wife's body is found—by Kate and her dog, no less—Michael is strangely unable to remember where he was the night she died. Since Michael has no alibi, Kate steps up to uncover what happened. What she walks into is a tangled web of deceit, obsession, and immigration fraud . . . with Michael trapped in the middle.


Praise for the Downward Dog Mystery Series:
A Fatal Twist
:
"If you're a fan of yoga, dogs, childbirth and murder cases, then Tracy Weber's
A Fatal Twist
is just what the fertility doctor ordered."—
The Seattle Times
Karma's a Killer
:
"Weber's clever assemblage of suspects is eliminated one by one in her entertaining novel."—
RT Book Reviews
Karma's a Killer
continues Tracy Weber's charming series."—
The Seattle Times
"[Weber's] characters are likeable and amusing, the background is interesting, and the story is ultimately satisfying."—
Ellery Queen Mystery Magazine
"Weber keeps readers guessing and populates the action with plenty of kooky characters."—
Mystery Scene
"Crazy, quirky critters and their odd yet utterly relatable human counterparts make
Karma's a Killer
an appealing story. But when you add the keep-you-guessing mystery with both laugh-out-loud one-liners and touching moments of pure poignancy, the result is a truly great book!"—Laura Morrigan, national bestselling author of the Call of the Wilde Mystery Series
"Tracy Weber's
Karma's a Killer
delivers on all fronts—a likably feisty protagonist, a great supporting cast, a puzzler of a mystery and, best of all, lots of heart. This book has more snap than a brand-new pair of yoga capris. Pure joy for yoga aficionados, animal lovers ... heck, for anyone who loves a top-notch mystery."—Laura DiSilverio, national bestselling author of The Readaholics Book Club Mysteries, two-time Lefty finalist for best humorous mystery, and Colorado Book Award finalist
"Yogatta love this latest in the series when Kate exercises her brain cells trying to figure out who deactivated an animal rights activist."—Mary Daheim, author of the Bed-and-Breakfast and Emma Lord Alpine Mysteries
---
Tracy Weber
is author of the award-winning Downward Dog Mystery series. Her first book in the series,
Murder Strikes a Pose
, won the Maxwell Award for Fiction and was nominated for the Agatha Award for Best First Novel. A certified yoga therapist, Tracy is the owner of Whole Life Yoga, a Seattle yoga studio, and she loves sharing her passion for yoga and animals in any way possible. Tracy and her husband Marc live in Seattle with their precocious German Shepherd pup Ana. When she's not writing, Tracy spends her time teaching yoga, trying to corral Ana, and sipping Blackthorn cider at her favorite ale house. Visit her at
TracyWeberAuthor.com
.