We welcome C.M. Wendelboe, author of the new HUNTING THE FIVE POINT KILLER to Midnight Ink's blog today! Here he shares how his history with in law enforcement—and encounters with death—inspires the dead bodies on his pages.
Much has been written about the education a writer should obtain—often along the lines that a writer must earn an advanced degree such an MFA in writing. Though I don't discredit the value of such a degree, with the quiet retreats alone with one's thoughts, and the lofty discussions with other writers, I confess the only advanced degree I have is a PHD (Post Hole Diggin'.)
What education I have is more on the practical side—I worked as a lawman for nearly forty years. During that time, I was fortunate enough (though some may think unfortunate) to be called to so many dead body calls I can still taste the tragedy. A great many were natural, which was of limited value to me as a writer, but valuable to me in honing my death-notification skills and empathy with the deceased kin.
It was those folks that died violent, often gruesome deaths that taught me what I wished to include in my stories, and that gives authenticity to them. While most writers don't have this background, and have to rely on law enforcement and medical examiners and text books to construct their scenes, all I have to do is set back and close my eyes. And the crime scenes come back.
Vividly.
Even though none of the deaths that my novels portray are based entirely on any of these calls, the scenes relay a composite of what I have seen—a gunshot victim from one call, the house arrangements from another death call, a gun or weapon from yet another. I have tried to tone down the graphics of what I import to my scenes, but it is often difficult to expel images from my memory, hard not to include many of the things that would made a reader retch. As I have done on more than one occasion responding to them.
I hope readers of my novels will never feel they have been BS'd. I hope they feel that when they read about a death scene and the aftermath, they will know that it was written from the mind of a working lawman. And know that the nearest they really have to get to the nastiness is waiting just on the next page.
***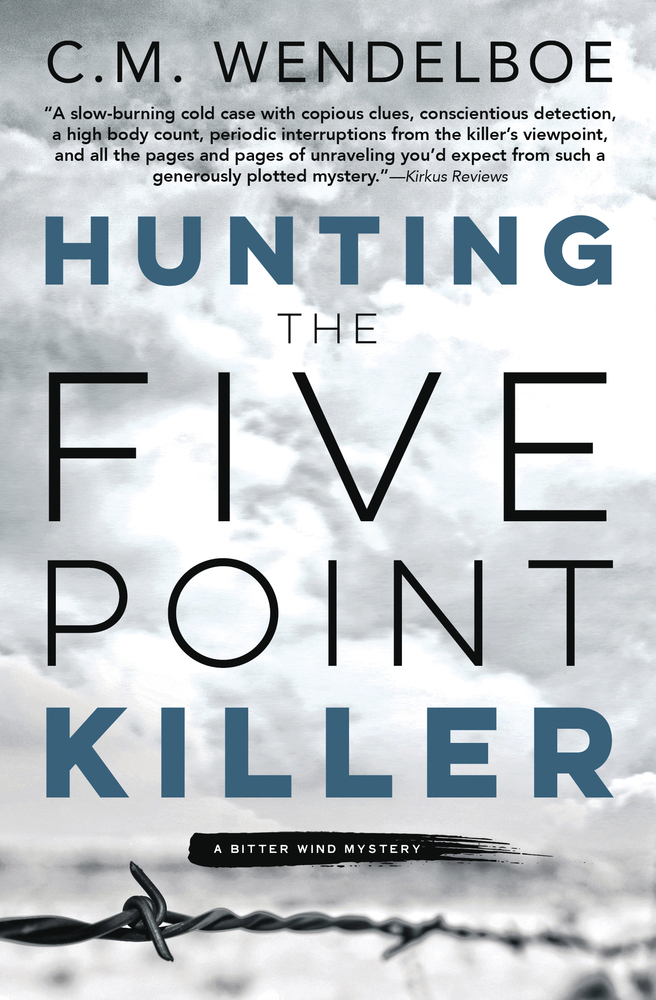 On the tenth anniversary of a series of unsolved murders, the Five Point Killer is back for blood—and retired cop Arn Anderson could be the next investigator who gets too close to the truth.
Retired detective Arn Anderson never thought he'd be broke enough to take on a cold murder case. Or desperate enough to team up with a TV reporter. Or pathetic enough to go back to his rundown childhood home after he swore he'd left Cheyenne for good. But here he is, hunting a serial killer who also appears to have come out of retirement. On the anniversary of the Five Point Killer's crimes, Arn's only option is to survive the carnage of a murderer who may be too twisted—and too brilliant—to catch.


Praise:
"A terrific debut . . . Wendelboe is a skilled writer who ratchets up the suspense."—Margaret Coel,
New York Times
bestselling author of
Winter's Child
"A slow-burning cold case with copious clues, conscientious detection, a high body count, periodic interruptions from the killer's viewpoint, and all the pages and pages of unraveling you'd expect from such a generously plotted mystery."—
Kirkus Reviews
C. M. Wendelboe
(Cheyenne, WY) is the author of the Spirit Road Mysteries (Penguin). During his thirty-eight-year career in law enforcement, he served successful stints as a sheriff's deputy, police chief, policy adviser, and supervisor for several agencies. He was a patrol supervisor when he retired to pursue his true vocation as a fiction writer. Visit him online at
www.SpiritRoadMysteries.com
.