We welcome Tony Perona, one half of the father-daughter writing team Elizabeth Perona, to Midnight Ink's blog today! Tony explores bucket lists...and why writing them down and checking them off may not be so important, after all.
(Although, checking off bucket list items can be entertaining...when you're the characters of the Bucket List mystery series! The third in the series, Murder at the Male Revue, is available now!)
My father-in-law died in March of this year, just a week shy of his 95th birthday. I realize now that I never asked him if he'd had a bucket list, or if he did, if he'd accomplished all of the things on it. This is strange, considering that Liz and I write the
Bucket List mystery series
about older people knocking items off their bucket lists. We ask a lot of people questions about what's on their bucket lists. But for whatever reason, not him.
But as I look back on it, I don't think we needed to. The way Jim lived his life made it clear that if he didn't have a formal list, he embraced the spirit of a bucket list. He and my mother-in-law Marge (who died in 2010) were adventurous souls who were engaged with life right up until the end. The two were "bucket list buddies," even if they didn't define it that way.
Here's what I mean by "bucket list buddies:" In late 2012, two researchers writing for the
Journal of Personality and Social Psychology
cited evidence indicating that spending discretionary money with the intention of acquiring life
experiences
makes people happier than spending money with the intention of acquiring
material possessions
. They then demonstrated that
the inclusion of others
is a key dimension of how people derive happiness from discretionary spending.
In other words, if your goal is to have experiences (which frequently show up as bucket list items), then accomplishing them with others makes you happier. Thus, the "bucket list buddy."
Jim and Marge led extraordinary lives. In his life span, Jim lived through the Great Depression, put himself through college, became an engineer, fought against Japan as a pilot in WWII, worked for General Motors for 40 years on aircraft engines, and raised a family that included a software developer, an engineer, and a pharmacist, two of whom were women. He retired to Florida for over 20 happy years before health issues brought he and Marge back to be with family in Indiana. Though he started with a slide rule for calculations, he adapted to electronic calculators, computers, the Internet and even a cell phone. He used a personal computer to keep track of his finances even to the end. In his last couple of months, he was asking my daughter Katy to explain the "cloud" to him.
He and Marge traveled extensively. They dragged their kids through national parks during summer vacations. When Jim was given the chance to go to Europe to work on a GM program with a British-based aircraft engine manufacturer, he packed up the family and they lived in England for three years. They extensively explored Europe while they were there. After retirement, they traveled around the US in a travel trailer, returned to Europe on occasion, and took cruises to Alaska and Asia.
Some of this took money, of course, and he was blessed to have that. But even stripping away experiences that required money, what I see in his life is an appreciation for the adventure of daily life—and sharing it with others.
He enjoyed golf, perhaps the prime reason he retired to Florida. He golfed frequently with Marge, his son Russ, with longtime golfing buddies, with strangers he met on golf courses. After Marge died, he played with the "Round Bellies," a group of retirees who were ten and twenty years younger than he was. When he had to give up golf at age 92, the Round Bellies loved him so much they kept in touch. He was an active church member, and he and Marge were valued members of congregations wherever they lived. They also enjoyed doing things for the good of their community. In his seventies, I remember Jim helped build a playground in a needy area of Punta Gorda. He was generous with his time, and he had a true heart for making the world a better place.
A bucket list does its best work when it engages its author in life. It's not necessarily about what's on the list or about how many items you can check off. Its value, I would argue—and I think the authors of the study in the
Journal
would back me up on this—is that it always has us looking forward to the next day. As our
Bucket List
characters Francine, Charlotte, Mary Ruth, Joy, and Alice can attest—along with Jim and Marge—it brings the promise of great happiness.
***
The Skinny-Dipping Grandmas enjoy a male stripper show . . . until it gets too hot to handle and nearly goes up in flames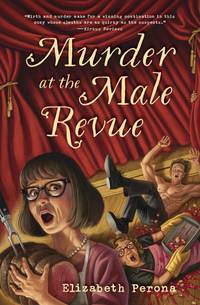 When Mary Ruth's company is hired to cater a fundraiser featuring the Royal Buckingham Male Dance Revue, the ladies see the chance to cross another item off their bucket list: helping divorcée Joy McQueen get over her decades-old fear of men in the buff. But when fundraiser sponsor Camille Ledfelter is stabbed to death, the women must uncover the naked truth about who wanted her dead.
Proving who did it, however, will require dodging a persistent stripper-for-hire, surviving the American Legion Bingo, drinking high-end cognac, searching for a certain 3D printer, and laying bare the motives of a dangerous killer.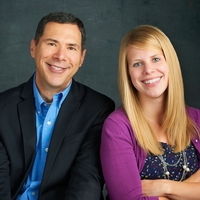 Elizabeth Perona
(Plainfield, Indiana) is the father/daughter writing team of Tony Perona and Elizabeth Dombrosky.