Gwen Florio's fourth mystery in the Lola Wicks series will be released this week, and we've invited her to share a few fun facts about herself. Enjoy!
1.
I grew up on a wildlife refuge in Delaware. Think thousands of acres of woods and marsh populated by deer, geese, ducks and muskrat.
2.
I have trapped, skinned, cooked and eaten muskrat. I don't care if I never do any of those things again.
3.
My parents gave in to my begging for a pony when I was nine, but told me I had to learn to stay on bareback before I could have a saddle. I learned.
4.
I still have a bump on my head where said pony kicked me. My kids rub it for luck.
5.
My kids once wrote an illustrated story called "Gwen and the Three Bears" that ends with a drawing of a gravestone reading "Here lies Gwen, killed by bears."
7.
But I am deathly afraid of grizzlies.
8.
I have a grizzly tattooed on my ankle.
9.
A bear could easily catch me. I have come in near-last in a marathon and last in a half-marathon, and have a Last Best Finisher medal to prove it.
10.
There's a bear – more than one – in the WIP. I'm obsessed.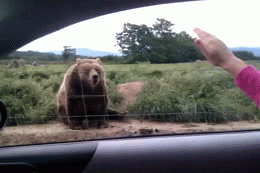 11.
I take pictures of my books when I spot them in stores or libraries and send them to my mom, ostensibly so she'll think I'm making money at this.
12.
I will never get over the thrill of seeing my books there.
13.
I'll forever be grateful to my parents for banning TV but never a book, no matter how seemingly inappropriate.
14.
As a journalist for nearly forty years, I fiercely believe in the right of reporters to pursue the truth, and the necessity of revealing it, no matter how uncomfortable.
15.
As a novelist, I believe fiction is frequently the best way to get at truth. Looking forward to lots of great fiction in the next four years.
***
Journalist Lola Wicks would much rather pursue a story than spend time with people she barely knows. So when an eco-terrorist bombing escalates the controversy surrounding a new coal mine on Arizona's Navajo Reservation, she's almost relieved to have a distraction from meeting her in-laws.
But as the violence gets worse and Lola digs deeper, she can't escape the feeling that her husband's family is somehow involved—a suspicion that jeopardizes not only her marriage, but also her life.
Gwen Florio
(Missoula, MT) has won several journalism awards and been nominated three times for the Pulitzer Prize. Her fiction has won the inaugural Pinckley Prize and the High Plains Book Award and was nominated for the Pushcart Prize for her Short Fiction. She is a member of International Thriller Writers, Mystery Writers of America, Sisters in Crime, Rocky Mountain Fiction Writers, and Women Writing the West. Visit Gwen at www.GwenFlorio.net.