Here is an interesting thing I found today while poking around the Publisher Weekly website... An interactive bookstore map! This is genius! Click
here
to go to the map. It separates stores by grouping - Borders, Barnes and Noble, Independents... Very cool.
Are you an author and planning on going to Bouchercon? To be considered for a panel, you have to be registered by TODAY, June 22nd. Click
here
for more info. And for fans... want to see what authors are already registered... click
here
.
The guests of honor:
American
:
Robert Crais
&
Charlaine Harris
International
:
Colin Cotterill
&
Val McDermid
Life Time Achievement
:
Sara Paretsky
Fan Guests of Honor
:
Kate Stine and Brian Skupin
Special guests (local living legends)
:
Robert Randisi
and
John Lutz
all brought together by...
Toastmaster
:
Ridley Pearson
This is going to be a fantastic convention. I will be there as well as a whole bunch of Midnight Ink authors. Hope to see some of you there as well.
In today's
Shelf Awareness
, Beth Groundwater was featured in the Image of the Day: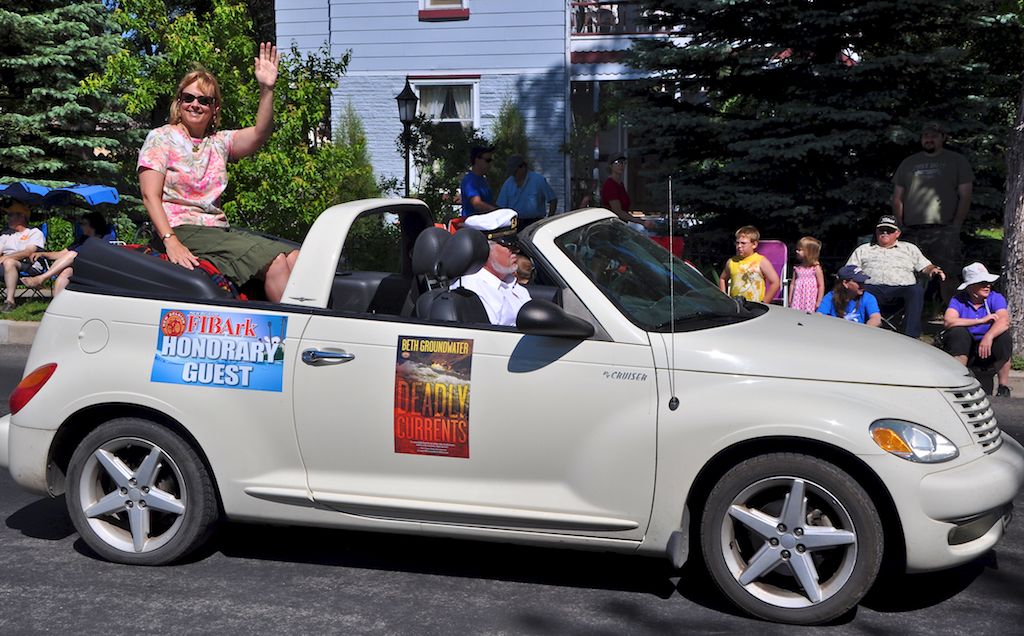 Last weekend author Beth Groundwater was the honored guest at the FIBArk (First in Boating on the Arkansas) whitewater festival in Salida, Colo., "America's oldest and boldest whitewater festival." Groundwater's latest mystery,
Deadly Currents
(Midnight Ink), stars whitewater river ranger Mandy Tanner and features Salida and the FIBArk event. Here she waves to parade onlookers before signing books at the
Book Haven
bookstore booth.