We welcome Leslie Budewitz, author of the new As the Christmas Cookie Crumbles, the fifth book in the Food Lovers' Village Mystery Series, to Midnight Ink's blog today! Here she talks about what really classifies as a Christmas cookie.
You'd think it would be pretty obvious, right—what's a Christmas cookie and what isn't?
Alas, no.
Years ago, I participated in a Christmas cookie exchange hosted by a woman I worked with. Trays of spritz, gingerbread boys, and sugar cookies in festive shapes covered her dining room table.
And there, among them, sat a plate of peanut butter cookies. Not just any peanut butter cookies, but flat, stretched-out cookies too crisp from over-baking.
Ho, ho, ho, and no, no, no!
The memory of that sad plate, alone on the table after all the candy cane cookies and jam thumbprints had been snatched up, prompted me to include a cookie exchange in
As the Christmas Cookie Crumbles
, fifth in my Food Lovers' Village Mysteries. I've been as surprised as Erin Murphy, my main character, to discover that not everyone agrees with her about Christmas cookies.
Don't get us wrong. We both love peanut butter cookies, and the flourless version her young cousin Molly brings to the Murphys' annual friends-and-family cookie exchange is yummy and easy. We bow to no one in our love of a good chocolate chip cookie. And snickerdoodles? Joy, rolled in cinnamon sugar.
But they aren't Christmas cookies.
What, to Erin, me, and our mothers, makes a cookie a Christmas cookie? Some are clearly seasonal—only an author testing a recipe is likely to color dough red and twist it into candy canes in June. Christmas cookies feature an ingredient not used in an everyday cookie. Fruit cake has long been relegated to December—or in some households, to the trash bin, but I don't hold with that either—so that's when fruitcake cookies or bars surface. Candied fruit, dates, and nuts are holiday staples.
A gingerbread boy or girl served any other time of year? Just plain wrong. A sugar cookie in the shape of a star or a bell, trimmed with frosting or sprinkles? You know I'm right. And spritz? Case closed.
Have you ever eaten a jam thumbprint any other time of year? Me, neither. Other cookies are holiday stars in certain European traditions—pfeffernusse, Berlinkranzer, lebkuchen, pizzelles.
Then there's the snowball and its pseudonyms—Russian tea cakes, Mexican wedding cakes, and pecan sandies. So important to the holiday that they even play a role in my latest mystery. I can hardly wait to try the "Dirty Snowball" one reader created by adding cocoa powder added to the powdered sugar. But I will wait, until December 1.
And we haven't even talked about fudge, divinity, or peppermint bark.
Now it has been brought to my attention that some cookbooks call the snickerdoodle a Christmas cookie. If it meets your criteria for special, and you only make it in December, then by all means, go ahead and give it that jolly label. After all, traditions do vary. Frankly, I think you'd be unnecessarily depriving yourself of the joy of those little balls of crackly dough wrapped in sugar and spice and everything nice the rest of the year.
Or maybe that just leaves more for me. And Erin. And you, if you stop by. Because no matter what the cookie, no matter what the season, cookies taste better when they're shared.
***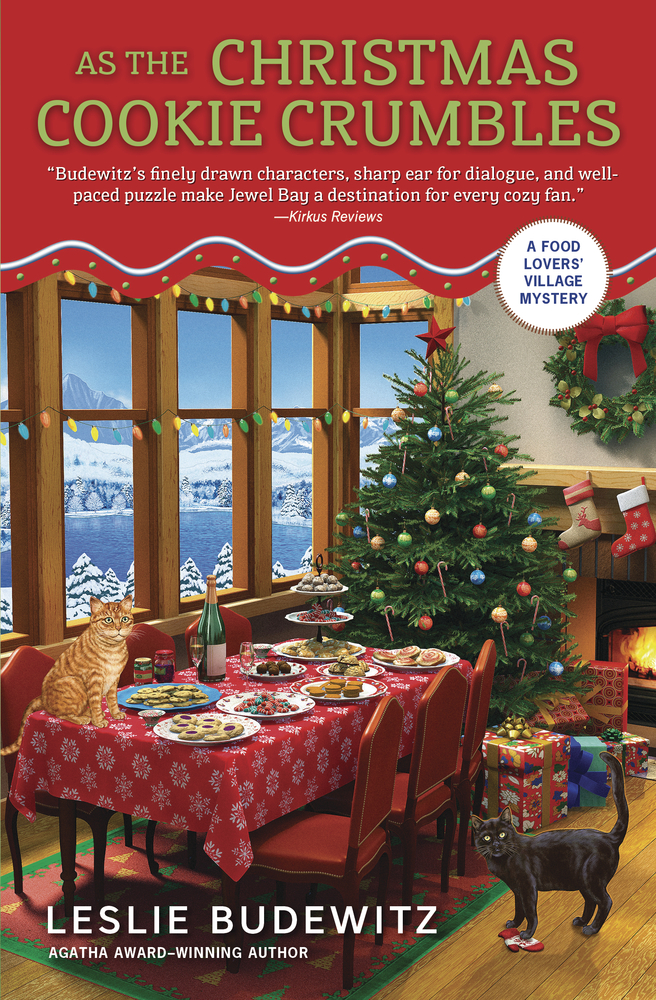 Erin is one smart cookie, but can she keep the holiday spirit—and herself—alive till Christmas?
In Jewel Bay, all is merry and bright. At Murphy's Mercantile, AKA the Merc, manager Erin Murphy is ringing in the holiday season with food, drink, and a new friend: Merrily Thornton. A local girl gone wrong, Merrily has turned her life around. But her parents have publicly shunned her, and they nurse a bitterness that chills Erin.
When Merrily goes missing and her boss discovers he's been robbed, fingers point to Merrily—until she's found dead, a string of lights around her neck. The clues and danger snowball from there. Can Erin nab the killer—and keep herself in one piece—in time for a special Christmas Eve?
Includes delicious recipes!


Praise:
"Budewitz's finely drawn characters, sharp ear for dialogue, and well-paced puzzle make Jewel Bay a destination for every cozy fan."
—
Kirkus Reviews
"Clean-as-a-whistle dialogue, endearing characters, and a solid plot make this cozy a winner."
—
Publishers Weekly
"Cozy readers will relish the small-town, Christmastime frame accompanying details of frenzied wedding planning and running a family food business. And, of course, recipes, too."
—
Booklist
---
Leslie Budewitz
blends her passion for food, great mysteries, and the Northwest in the Seattle Spice Shop Mysteries and the Food Lovers' Village Mysteries, set in Jewel Bay, Montana. The 2015-16 president of Sisters in Crime and first author to win Agatha Awards for both fiction and nonfiction, she lives and bakes in NW Montana.